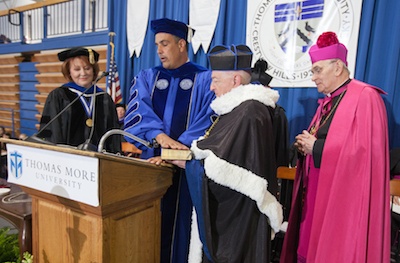 Laura Keener, Editor.
The installation of Thomas More University's (TMU) 15th president — Joseph Chillo — was held Sept. 25. The ceremonies began with Mass celebrated by Bishop Roger Foys at Mary, Seat of Wisdom Chapel on the campus of TMU. Father Ronald Ketteler, chair, Department of Theology, TMU; Father Gerald Twadell, chaplain and professor of Philosophy, TMU; Father Daniel Schomaker, vicar general; and Father Jacob Straub, assistant professor of Theology, TMU; concelebrated, with Deacon Charles Melville assisting.
Whenever any institution or government installs a new president there is usually an inaugural address, Bishop Foys said as he began his homily. In the Gospel reading for the day's Mass, Bishop Foys said, Jesus gives his inaugural address.
"The Spirit of the Lord is upon me, because he has anointed me to bring glad tidings to the poor. He has sent me to proclaim liberty to captives and recovery of sight to the blind, to let the oppressed go free, and to proclaim a year acceptable to the Lord … He said to them, 'Today this scripture passage is fulfilled in your hearing.'" (Luke 4:16-22)
"He (Jesus) made the words of the prophecy by Isaiah his own. That was his inaugural address and that's what he calls everyone to do — to follow in his footsteps," said Bishop Foys.
Congratulating President Chillo, Bishop Foys ended his homily saying, "Today we install our 15th president who is going to be the leader of this community of faith, who is going to uphold the Catholic faith — the Catholic tradition — who is not going to be ashamed to stand up for that truth and who will be proud to be Catholic."
At the inauguration ceremony later that afternoon, President Chillo, in his inauguration address, affirmed his commitment to enhance the student experience, celebrate the importance of a Catholic, liberal arts education, and share his bold vision for positioning TMU as a regional and national leader. He also announced two new initiatives designed to boost affordability, accessibility and entrepreneurship: the Diocese of Covington Guarantee, which will financially assist graduates of high schools within the Diocese of Covington, and the formation of the Center for Entrepreneurship and Innovation, which will provide a new program and physical space that allows TMU students and faculty to collaboratively develop initiatives to better serve the future of the northern Kentucky region.
"In the United States, now more than ever, students and their families are feeling the burden of rising college costs. We are combatting this issue. The Diocese of Covington Guarantee ensures that all diocesan graduates starting with this year's high school graduating seniors who meet our admission criteria will be awarded $20,000 in institutional aid. Every diocesan student that wants to gain a Catholic higher education deserves the assistance to do so. Creating opportunity for our diocesan high schools to effectively position the values and significance of a Catholic higher education begins with our responsibility of being the diocesan University."
The ceremony also officially launched the University's new fundraising initiative focused on student scholarships called 1221: A gift for every student, because every student is a gift. The initiative seeks 1221 donors to support the 1221 traditional current students at TMU and is a response to President Chillo's dedication to affordability and accessibility. The support ensures each student at TMU receives the mentorship and financial support needed to make an impact in an evolving world and workforce.
"Each student here at the University is a gift. I'm committed to ensuring that every student — all 1221 of our traditional students and almost 1000 adult, online, dual credit, and graduate students — receives the mentorship and financial support they need to make an impact in an evolving world and workforce," President Chillo said.
As a first-generation college graduate and product of a liberal arts education, President Chillo expressed the importance of providing each student with a holistic and transformational college experience.
"A college education isn't supposed to be a hoop to jump through or a box to check in order to get a good job. Education is a transformative endeavor, not a transactional exchange. It is a community, not a commodity."
https://covdio.org/wp-content/uploads/2019/10/ChilloInaugStageWeb.jpg
263
400
Laura Keener
/wp-content/uploads/2015/01/CovDioLogo_dark-300x122.png
Laura Keener
2019-10-02 09:43:42
2019-10-02 09:43:42
TMU installs 15th president; announces two initiatives to make education affordable