Laura Keener, Editor.
This year's sacred Triduum services necessitated several liturgical adjustments as each was celebrated this year without the benefit of the congregation being physically present — a restriction to mitigate the COVID-19 pandemic. As recommended by the Holy See, the celebrations were simulcast via live stream on the Cathedral Basilica of the Assumption's website but were not recorded for future viewing. All Masses took place at the cathedral.
The COVID-19 pandemic and its subsequent anxieties, restrictions and reactions were a common theme throughout the celebrations as Christ's passion, death and resurrection seemed to take on an even more personal reality.
"Oftentimes in life we have things happen that at the moment we don't quite understand; we don't quite comprehend its full meaning. Later on, having been through the event, we understand," Bishop Roger Foys said as he began his homily on Holy Thursday's Mass of the Lord's Supper.
This was true of the apostles as Jesus washed their feet at the Last Supper — a task usually reserved for a servant, not the master. Peter recoiled, saying that he wasn't worthy.
"The fact of the matter is that Jesus wasn't washing Peter's feet because he was worthy or unworthy — it was Jesus' gift of love," said Bishop Foys. "If Jesus were concerned at that time about worthiness of unworthiness would he have washed the feet of Judas? But yet he did. Jesus wanted the apostles to accept that gesture as a gift."
In the Gospel reading of the Last Supper, Jesus instructs his disciples that, "What I have done for you, you must do for others."
"Those words ring true to our very day," Bishop Foys said. "Jesus gives us his love, unworthy though we are, he gives his love freely and unconditionally as a precious gift and says to us, 'As I have done so must you to each other.'"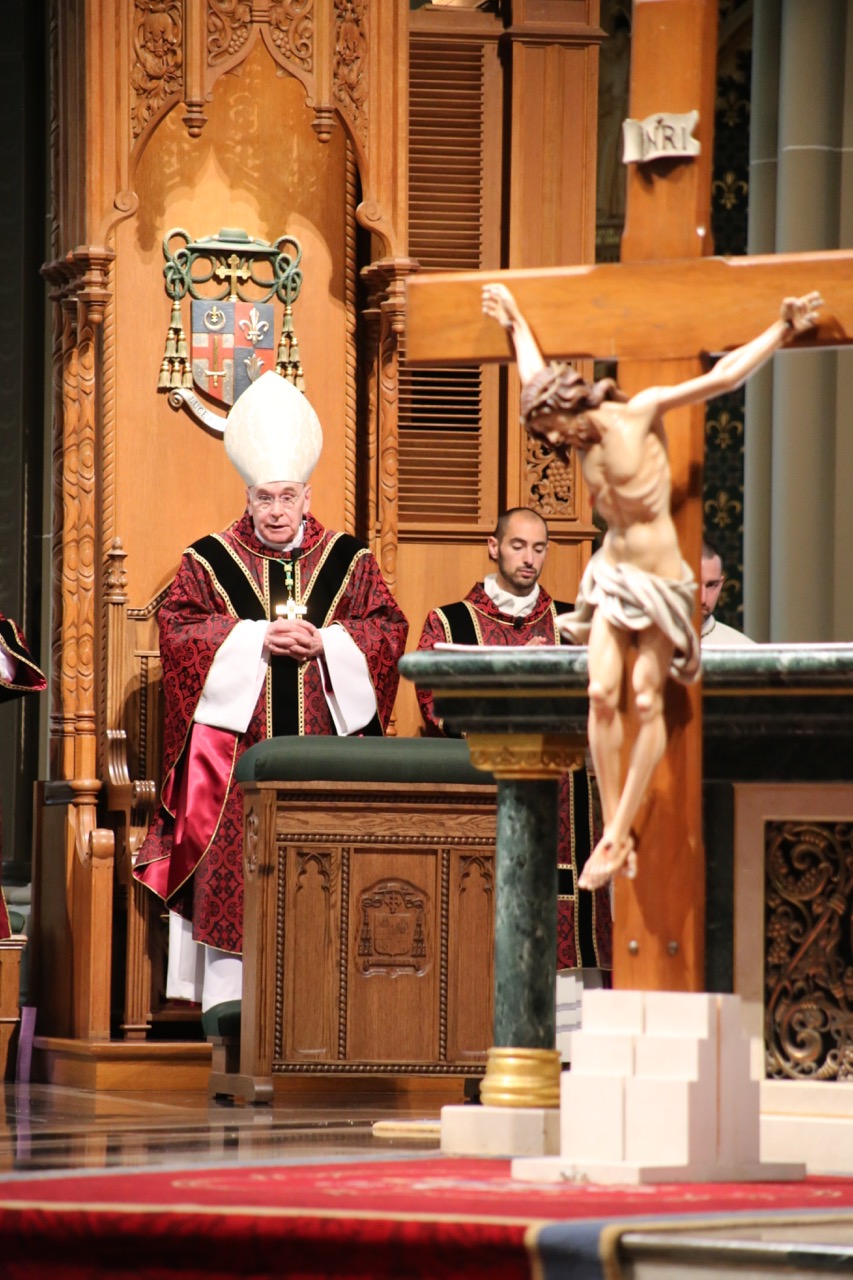 Bishop Foys acknowledged that what is happening in our lives now with the pandemic, we don't understand. "We are called to use this time and reflect on this time as a means for us to understand what is really important in our lives, who is really important in our lives. In the end, as unbelievable as it may sound now, some good in the end will be achieved. While we don't understand, perhaps we are confused, perhaps we are discouraged, certainly we are afraid, we trust in God … In the meantime we open our hearts to God's love, a gift that is freely given. All that matters is that he loves us with a love that never fails. All he asks is that we follow his example to love one another as he has loved us."
Good Friday, the day of Jesus' passion and death, is a very somber day in the life of the Church. It is the only day where Mass is not to be celebrated. At the Cathedral, Good Friday services began in silence. When the procession reached the altar, Bishop Foys, Father Ryan Maher, Father Daniel Schomaker, Father Michael Grady, Deacon Jordan Hainsey and Father Joseph Shelton prostrated themselves before the altar — signifying the grief and sorrow of the Church.
In his homily Bishop Foys said, "This Good Friday, in the year 2020, is especially somber for us. We find ourselves in the midst of tremendous anxiety, stress and fear … But this we know, that what we observe today, although it might seem outwardly and at first glance, a loss — the death of Jesus — actually is the gain of eternal life.
"Even in our current situation, something good, something positive will come. Perhaps a change of heart, perhaps a resurgence of faith, perhaps a resurgence of trust, perhaps coming to a conclusion of what really and truly matters in life.
"On this somber day, as we reflect on the meaning of Jesus' suffering and death in our own lives personally, we do have hope. We have a light shining in the darkness. Hope does not disappoint; faith does not abandon us if we trust in the Lord."
The Easter Vigil, when the Church celebrates the first moments of Jesus' resurrection, the light coming into the darkness, is typically a time when the Church welcomes its new members — the Elect — into full communion. Due to the restrictions on large gatherings, there were no baptisms or confirmations celebrated during the Easter Vigil. The blessing of the fire was also eliminated — but the life of the Church continued.
Bishop Foys prepared the 2020 Paschal Candle and the announcement of the Lord's resurrection was proclaimed. The joyful strain of Alleluia — which was extinguished on Ash Wednesday — was once again sung and echoed through the cathedral.
"When someone we love dies we are overcome with grief," Bishop Foys said as he began his homily. "Grief can lead to confusion and disorientation."
This, he said, might explain Mary's confusion when she found Jesus' tomb empty. "The angel says to them, 'Do not be afraid,'" Bishop Foys said.
Then the angel asks Mary to make an act faith by remembering that Jesus had told her that he would conquer death and instructing her to go and share the good news, share her faith.
"Jesus told you he will conquer death and be raised from the dead. Now go and share your faith, share your belief," said Bishop Foys.
"Tonight we celebrate that truth, that Jesus Christ is Lord — the son of God and the son of Mary. He was born, he lived, he suffered, he died and if that had been the end there would have been no more to it, but he was raised from the dead by the Father and lives never to die again. He promises us that if we are faithful to him, to his word and to his Church that we will share in a like resurrection.
"In the face of what seems hopeless, we have hope. Because of our faith that generates that hope we can still, in the midst of this confusion, in the midst of what is a tragedy, in the midst of this pandemic, we can find joy, because the Lord will be victorious and Lord walks with us."
On Easter Sunday, Bishop Foys encouraged the faithful who, because of the pandemic, would not be celebrating as a community at Mass and would not be receiving the Eucharist, not to lose hope.
"We do the best we can. We celebrate Easter in our hearts and we have Spiritual Communion," Bishop Foys said. "Easter is still Easter. The Resurrection is still the Resurrection. Our faith is still our faith. We cannot let our sense of loss blind us to the reality that Jesus Christ suffered, died and was raised from the dead, conquering death, victorious over the grave once and for all. We cannot ignore the fact that Jesus Christ took with him our sins when he died on the cross.
"This is a time more than ever to come face to face with our Lord, Jesus and let him embrace us as we embrace him and to truly believe that he will not abandon us. There is light in the darkness and there is life after death. The truths of our faith remain the same. With that faith and with that hope and with that trust in the Lord, we can get through this present time. On this Easter Sunday 2020, all of us can make an act of faith and renew our faith in the Lord and trust in his word."
https://covdio.org/wp-content/uploads/2020/04/BishopVenerateCross-e1587998901290.jpg
1280
853
admin
/wp-content/uploads/2015/01/CovDioLogo_dark-300x122.png
admin
2020-04-27 10:48:40
2020-04-27 10:49:49
Amid the chaos and uncertainty of the time 'Easter is still Easter,' Bishop Foys says