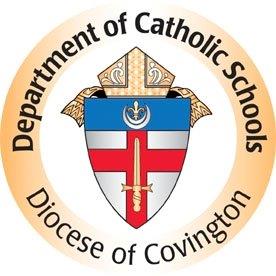 Allegra Thatcher, Assistant Editor.
Schools in the Diocese of Covington are continuing with Non-Traditional Instruction (NTI) after a Thanksgiving weekend surrounded with changes in COVID-19 school policies. Despite an injunction giving private Christian schools an exception from Governor Andy Beshear's executive order, the Sixth Circuit Court prevented the Diocese of Covington from returning students to in-person instruction any earlier than Dec. 7.
After the executive order from Governor Beshear, Nov. 18, ordering the cessation of in-person instruction beginning Nov. 23, diocesan schools spent the weekend preparing for a complete transition to NTI. According to the order, elementary schools may return to in-person instruction Dec. 7, provided their schools are not in Red Zone counties, while middle and high schools may resume in-person instruction Jan. 4, 2021. The only county not currently identified as red in the diocese is Owen County.
The schools received hope of returning to the classroom sooner when U.S. District Judge Gregory Van Tatenhove filed a 22-page order granting a preliminary injunction to 17 private Christian schools that filed a lawsuit against the emergency restriction. Attorney General Daniel Cameron joined the plaintiffs in the suit, and on Nov. 25, the district court granted the motion for preliminary injunctive relief and prohibited the Governor from enforcing the order against any private, religious school in the Commonwealth.
Kendra McGuire, superintendent of Catholic Schools for the Diocese of Covington, sent a letter to parents Nov. 25, saying schools would resume in-person Dec. 2, with after-school extracurricular activities and winter sports suspended until the week of Dec. 14 in an exercise of caution. She clarified that as of Nov. 19, 24 out of 37 schools had zero COVID-19 cases.
"Overall, our data over the last 14 weeks has shown that COVID cases are not originating in our schools and it is not spreading in the school setting when the protocols are followed," she wrote. "We also found that the quarantine periods for cases and close contacts were effective at mitigating spread. Therefore, despite the rising cases in our counties, we had decided our Catholic schools would remain open and we would continue monitoring each case and school community individually."
However, over the weekend, Governor Beshear appealed to the Sixth Circuit Court with a request to stay his executive order, making it applicable to all despite the injunction. The Sixth Circuit Court granted Governor Beshear's request Nov. 29.
Mrs. McGuire followed up with a second letter to parents Nov. 30, explaining that NTI will continue as previously planned. Expressing her sorrow over what the students will miss during the Advent season, she encouraged families to lead their children in the Advent traditions that their schools would have used to help them prepare for Christmas.
"We have just started the Advent season," Mrs. McGuire said. "During this time our children would have attended Mass, spent time in Adoration of the Blessed Sacrament, and had the opportunity to receive the Sacrament of Penance. We would have prayed and taught the lessons of Advent as a faith community to help prepare our hearts for the celebration of Christmas. While I know firsthand that NTI adds stress to families, I do hope you will be able to help your child(ren) participate in these Advent traditions."
Meanwhile, in-person "targeted services," including school counseling and academic support, may continue.
December 7 remains the target date for reopening elementary schools, but only if counties are no longer in the Red Zone. Middle and high schools will continue using NTI until at least Jan. 4.
https://covdio.org/wp-content/uploads/2020/11/Logo.jpg
276
276
Laura Keener
/wp-content/uploads/2015/01/CovDioLogo_dark-300x122.png
Laura Keener
2020-12-02 15:56:28
2020-12-07 14:00:03
After reversed ruling, schools to continue remote learning due to executive order