Laura Keener, Editor.
Nearly 3,000 families were logged in, Dec. 14, to participate in the live stream of the diocese's first all-schools Advent Mass. Bishop Roger Foys decided to celebrate the Mass as a way to unite the students, who have been learning remotely since Nov. 23, in prayer during these final days of Advent as they prepare their hearts for Christmas. While the students attended virtually, the deans, principals and superintendent of Schools were present in the Cathedral. Their presence made the students present in a more tangible way as they represented their school communities.
In his homily Bishop Foys focused on waiting and, in a special way, Advent waiting.
"I've never met in my life anyone who likes to wait," said Bishop Foys. "Yet the season of Advent is all about waiting — preparing and waiting. The important thing about waiting is how we wait," noting that some people wait more patiently than others.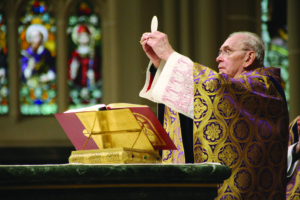 The waiting of Advent serves three purposes, Bishop Foys said.
"First we wait for Christmas, the anniversary of the birth of our Savior, the Lord, Jesus Christ. We also wait and prepare for Jesus to come into our own lives. And, of course, part of that is waiting and preparing for the time when Jesus will come again. He will come at the end of the world to judge us. These three things are what we wait for during this season of Advent."
In Scripture, John the Baptist says, "'Prepare the way of the Lord.' We are to be that voice in our time, preparing ourselves but also helping others to prepare. How do we do this?'" Bishop Foys asked.
Bishop Foys said that how a person waits will make all the difference. "if we wait properly and profitably, if we prepare ourselves while we are waiting, then that for what we are waiting will bring us great joy. If we get tired of waiting, and we lose sight of what it is we are waiting, we can lose interest," he said. "It takes faith, it takes stamina, it takes patience and it takes hope and it all comes down to how do we wait, how do we prepare ourselves, how important is God's coming into our lives?"
In acknowledging the difficulties and sacrifices that teachers, students and parents have had to endure during this unique year, Bishop Foys said that this waiting and sacrificing can teach us to identify and to appreciate what is most important in life.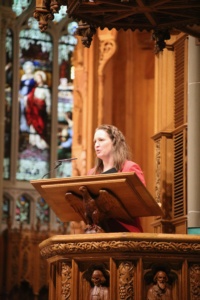 "One of the things we were forced to do during these months was to spend more time with family, time to read, time to pray, time do projects we had been putting off, time to see what really matters," he said. "To you students watching, my guess would be that a day off of school is not going to be so great as it once was. Being in school, in person with your classmates and teachers, hopefully, will look a whole lot better. Waiting tells us something about who we really are and what really matters."
After Mass, Kendra McGuire, superintendent of Schools, addressed the students, encouraging them during these last days of Advent and looking forward with hope to returning to the classroom in January.
"We are truly blessed to gather as one school community. Today we are not 37 different schools or nearly 10,000 individual students and staff; today we are united together as a community of believers joined as one in prayer and thanks to God," Mrs. McGuire said.
"We have one week of school remaining in this year of 2020 and though this year was full of new challenges for us as teachers and students we need to finish strong. Let's give this last week our best effort so that when this week comes to a close we can spend time with our families and focus on the reason for being off school — to celebrate the birth of Jesus Christ. During this third week of Advent, the three lit candles on our Advent wreath reminds us that Jesus is near. It is a reminder for us to take a look into our own hearts to see if we are truly prepared for Jesus this Christmas … It is time to stop doing hurtful things and instead look for ways to be like Christ to one another."
https://covdio.org/wp-content/uploads/2020/12/Jankowski-boys-e1608128970267.jpg
520
942
Laura Keener
/wp-content/uploads/2015/01/CovDioLogo_dark-300x122.png
Laura Keener
2020-12-16 09:29:58
2020-12-16 09:29:58
All-schools Mass unites schools across diocese in Advent prayer