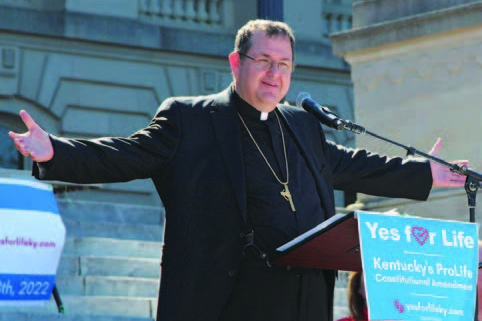 At Walk for Life and Yes for Life Rally 'life or death is on the ballot' — 'choose life'
Laura Keener, Editor
The second annual Walk for Life at the Kentucky state capital in Frankfort, Oct. 1, had a singular, focused and urgent mission — the passing of the Kentucky Constitutional Amendment #2 in the upcoming Nov. 8 election. 
"As we consider the challenge before Kentucky voters," coming this election in November, said Dr. Albert Mohler, "we recognize that nothing less than life or death is on the ballot, it is represented in what is known as amendment two. Amendment two is one of the most clear, one of the most concise, one of the most necessary amendments, because what it would do is, with very clean and efficient language, simply state that there is no right to abortion within the Kentucky constitution." 
Dr. Mohler, president, The Southern Baptist Theological Seminary, was the lead speaker at the Vote Yes for Life Rally, which was held just before the Walk for Life. Bishop John Iffert of the Diocese of Covington was also a keynote speaker, with Pastor Jeff Fugate, Clays Mill Road Baptist Church offering the opening prayer. The rally and the Walk for Life is organized by Addia Wuchner, executive director, Kentucky Right to Life and the Yes for Life Alliance, of which the Catholic Conference of Kentucky and the Diocese of Covington Pro-Life Office are members. 
Despite what Dr. Mohler described as "the howls" from a small but vocal group of protestors, the spirit of the rally was joyful and uplifting with The Jason Lovins Band leading the crowd with Christian rock music. 
Acknowledging the increasingly loud chants from protesters, Bishop Iffert began his talk by encouraging those present to always respond with joy and shared a Dominican spiritual exercise. 
"I want you to remember that Jesus Christ on the cross came to take the anger of the world, came to take the bitterness of the world, came to take the violence of the world, came to take the death of the world, came to take the vehement opposition of the world and to take it to himself. Not responding in kind but in his own body, transforming it and creating in that great act of love, a path to life, a path to salvation," Bishop Iffert said. 
"(Saint) Dominic gives us different ways to pray with our body. One of the ways he invites us to pray is to form our body into the form of the cross of Jesus Christ, and to hold ourselves there just as long as we can … and to ask the Lord Jesus Christ to come and be with us, to transform us, to give us the gift of mercy that he witnessed in His incarnation, and in His death on the cross," Bishop Iffert said. "I invite you to do that at some point today … to make yourself into the shape of the cross of Christ Jesus the Lord and to take all the bitterness, all the anger, all the violence, all the vehemence, all the fear that you hear in the voices of those who stand opposed to us today and pray, God, in you and your gentle witness to transform it for the salvation of babies, for the salvation of those whose voices we hear, for their conversion, for their recognizing that they make themselves servants of a culture of death. That we might win this debate, not just with votes at the ballot box, but that we might come to do what Christ calls us to do — to be instruments of the Holy Spirit of God that can lead to conversion." 
Bishop Iffert acknowledged that one of the biggest concerns that is being spread as a mistruths by those protesting and other proponents of abortion is that "we are only concerned with unborn life and not with them, not with the mothers of these babies." 
"Nothing could be further from the truth," Bishop Iffert said as he referred to the U.S. bishop's "Walking With Moms in Need" initiative. With Walking With Moms in Need parishes and lay faithful are encouraged to provide practical, emotional and spiritual support to all mothers and their children. 
Bishop Iffert explained what Amendment 2 would do and dispelled mistruths he's been hearing about Amendment 2. "Legal scholars for a long time have been telling us that this amendment that is proposed for the Kentucky Constitution is the most important legal action that we can take to protect life," by stating that nothing in the Kentucky constitution guarantees a right to abortion or state funding of abortion. With this amendment, no one judge or court, or individual could decide unilaterally to enforce abortions rights or the funding of abortion on the citizens of Kentucky. 
"It will return this matter to the people, so that the people, through their elected representatives, can have the conversation about how we are to treat the question of abortion in our society," said Bishop Iffert. "That's what this amendment will do. That's all it will do. It will not create a new abortion ban. It will not create any new abortion laws. It will not create any new abortion restrictions." Concluding, Bishop Iffert said about voting Yes on Amendment 2, "This is important because this is the one opportunity in our lifetime for the citizens of Kentucky to register your opinion on abortion and on life. Please, dear God, choose life. Please choose life." 
Also during the program, Mr. Lovins shared a personal life-affirming witness. Mr. Lovins was conceived in rape when his mother was only 15 years old. 
"I'm very thankful to tell you that for my grandma and her 15-year-old daughter abortion was just not going to be an option," said Mr. Lovins. "You see, for her it was that simple … My grandma very much understood how big God is. She believed that he's so big that he wasn't surprised by me. We think that when bad things happen, we think, 'Oh Lord,' as if he didn't know what was gonna happen. She just knew that's not how it works, y'all. These things that we read in the Bible, that he formed me in my mother's womb and that he had plans for me — she believed that with all of her heart." 
Originally his mother and "maw maw" were planning to have a family member adopt him. That was until his mother heard his heartbeat, then she told her mom that she wanted to keep her baby. 
"Listen, I know my 15-year-old mom had no idea what she was getting herself into. But my grandma did. And she said okay," Mr. Lovins said. "My grandma very much understood that God is constant. That he doesn't change even when you're walking in your deepest, darkest valley or on your mountain top — he's the same. She believed it with all her heart." 
Mr. Lovins said that he never knew his dad, his mother and grandmother didn't even know who he was. And that even today when he shares that he was conceived in rape and was raised without a father, the initial reaction is "Oh, you poor kid. But that's just not how the story goes," he said. 
"My family made it very clear to me at a young age that you know what, you don't have an earthly father … but you have a heavenly Father who loves you, who loves you more than you'll ever know. And would just continue to remind me of that over and over and over. And it's always been enough. That's the best way I know to explain it to people. It's always been enough." 
Recognizing that other women do not always have the support his mother had, Mr. Lovins said, "We need more 'maw maws.' We need more people to step up and say, 'Hey, I got you. I'm going to walk alongside you even in your deepest darkest valley because God is so great and he doesn't change — he's great either way.'" 
Image: Bishop Iffert demonstrates a Dominican spiritual exercise of standing in the form of a cross and asking Jesus to transform us for the salvation of others. 
https://covdio.org/wp-content/uploads/2022/10/walk-for-life-bishop.jpg
325
482
Maura Baker
/wp-content/uploads/2015/01/CovDioLogo_dark-300x122.png
Maura Baker
2022-10-06 08:53:30
2022-10-06 08:53:30
At Walk for Life and Yes for Life Rally 'life or death is on the ballot' — 'choose life'