Laura Keener, Editor.
May is Mary's month. In the Catholic Church, Mary has rightfully been understood to be a great intercessor for God's people as Mother of the Church. On May 1, Bishop Roger Foys consecrated the Diocese of Covington to Mary, Mother of the Church pleading for her protection during and intercession to ending the COVID-19 pandemic. The local consecration was a part of a North American initiative started by the Canadian Conference of Catholic Bishops and supported by Archbishop José Gomez of Los Angeles and president of the United States Conference of Catholic Bishops. Several other bishops across the United States also that day consecrated their diocese to Mary, Mother of the Church.
At the Cathedral Basilica of the Assumption, the celebration included the praying of the decade of the rosary and a traditional May Crowning — absent of a congregation. The event was live streamed and is available for viewing on the Cathedral's website www.covcathedral.com.
The reading, which was recommended by the USCCB, was John's account of the crucifixion, where from the cross Jesus entrusts Mary to the disciple John and John to Mary — in turn entrusting the Church to the loving care of his mother.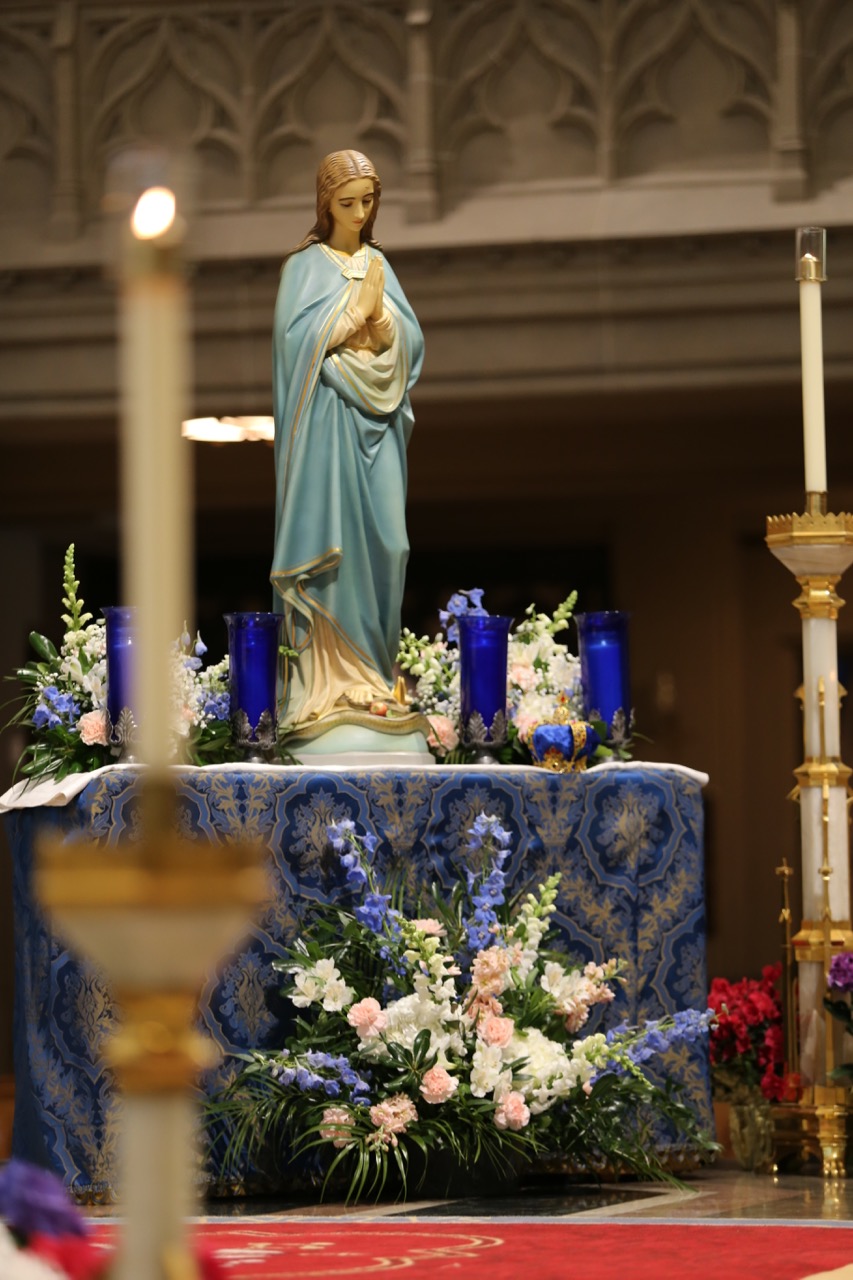 "Mary stood at the foot of that cross because she loved her son with a love that only a mother can give," said Bishop Foys in his reflection. "She needed to be there so that she could see her son and that he could see her, so that even in the midst of his agony, suffering and pain he derived consolation in that he was not alone — that he would not die alone."
Bishop Foys said that a mother's love is so necessary that God sent his son to born of a woman.
"God could have sent his son in any number of ways but he chose that his son, who would be our Savior, would be born of a woman — one of us — who would know a mother's love. How empty Jesus' life would have been without the love of a mother — a love that is so great that she stood along the path to Calvary … How painful her hurt must have been as she saw her son beaten, bloodied, spit upon, bearing the weight his cross on the way to Calvary. What went through her mind as she stood at the foot of the cross with the beloved disciple and watched her son in his agony? It is a pain only a mother could imagine," he said.
During this time of pandemic, it is right that the Church turn to Mary, her mother, asking for her protection and intercession, Bishop Foys said.
"Mary the Mother of God, the mother of Jesus, our mother, she is the mother of the Church, the mother of us all and she will intercede for us with her son. She will not abandon us," Bishop Foys said. "There is no love, at one in the same time, as gentle and as strong as the love of a mother. So we gather today, the bishops across our country, to dedicate our nation and our dioceses, to consecrate ourselves, to Mary, Mother of the Church and we ask her to intercede for us — to make us strong during this time of testing, during this time of pain, this time of fear and anxiety. We ask her to take our collective hands into hers and comfort us. Mary is our mother. She will not disappoint us. She will care for us because she loves us.
"Mary, Mother of God, mother of Jesus, Mother of the Church — pray for us."
https://covdio.org/wp-content/uploads/2020/05/Consecration.jpg
853
1280
admin
/wp-content/uploads/2015/01/CovDioLogo_dark-300x122.png
admin
2020-05-14 12:49:30
2020-05-14 12:49:30
Bishop consecrates diocese to Mary, Mother of the Church