Laura Keener, Editor.
Sixteen months after having acquired the property on the corner of Madison Ave. and 16th Street, Covington, renovations of the new location of the Parish Kitchen have been completed. During a small ceremony, July 10, attended by Board Members of the Parish Kitchen and Catholic Charities, Diocese of Covington, Bishop Roger Foys blessed and dedicated the building. Don Knochelmann and Brian Harvey of the diocesan Buildings and Properties Office oversaw the project and were also in attendance.
"I am so pleased that we will be able to continue our ministry at the new Parish Kitchen on Madison Ave.," said Bishop Foys. "The new venue is a vast improvement on the former one and will provide those who come for a meal with a pleasant atmosphere and at the same time show them the respect they deserve. I am so very grateful to all who were instrumental in making this move as well as to our many volunteers who continue to make it possible for us to engage in this important ministry. We call to mind the words of Jesus that whoever gives a cup of cold water to one of these little ones, gives it to Him."
Finishing touches are being made at the new Parish Kitchen. It is anticipated that service will begin on July 20. Alan Pickett, executive director, Catholic Charities, said that staff who at first seemed overwhelmed by the vastness of the move, are now excited to continue its ministry of providing lunch 365 days a year to the local hungry.
"Bishop Foys was courageous and bold to buy the building at a time when the city was giving us very few options and were restrictive in where they would allow us to relocate," Mr. Pickett said.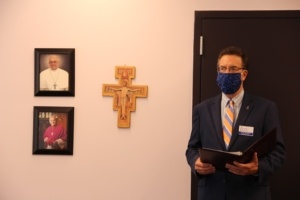 The need to relocate the Parish Kitchen was coming from both inside and outside the facility. The existing building itself is older and in need of renovations and the neighborhood where it is located has seen some major redevelopment, pushing the demographic of the people served at the Parish Kitchen to other locations.
"We've been getting more acclimated to the new neighborhood and we've connected with some of the nearby ministries that we know serve the same people we want to serve," said Mr. Pickett.
Among the other ministries that will be nearby are The Rose Garden Home Mission and its medical and dental Center for Hope and Healing (both operated by the Franciscan Daughters of Mary), the Life Learning Center, Healthpoint, the Career Center and Madison Avenue Christian Church.
"All of these organizations and ministries focus on the same mission and serve the same people," said Mr. Pickett.
Manager Maria Meyer said she's excited to open up the new space because it will help people who walk into the clean and renovated space feel dignified. "I think it's going to be a warm and welcoming space for the guests," she said. "We'll also have new equipment that will help us expand our menu more to offer healthier options and a larger variety of food."
Ms. Meyer also made it clear that the move wouldn't have been possible without the generosity of volunteers and donors. "We're very grateful for the volunteers who helped us move and continue to serve during the move," she said.
The new building will have about 20 percent more seating capacity, once regulations from the COVID-19 pandemic are lifted and inside seating at the Parish Kitchen is able to resume. Right now, the Parish Kitchen will continue to offer carry-out meals.
"One of the elements of our ministry that has been impactful is the interaction we have with guests who sit down with us and eat. But we haven't been able to share that part of ministry over these last few months and we won't be able to immediately in this new location," said Mr. Pickett. "It's disappointing. Hungry people are fed but having that interaction and being able to offer that safe place of respite from the world on the street is a piece that's still missing. In the face of adversity we have had to make adjustments and do what we can."
The new facility also has meeting rooms that were not available at the current building. This will allow the Parish Kitchen to identify and provide some unmet needs to their guests as well as to continue its collaboration with St. Elizabeth Healthcare's Faith Community nursing program.
"Since July 2019, Faith Community volunteer nurses from St. Elizabeth Health Ministry have provided health screenings and case management to many of our guests at Parish Kitchen," said Mr. Pickett.
The services from Faith Community are free to all guests, and were offered weekly until the pandemic prevented guests from coming inside Parish Kitchen.
With any move there is transition, and the Parish Kitchen is no exception. Some current guests for whom the existing location was more convenient may not be able to make the move if they do not have transportation or the ability to walk the one mile to the new location. Others who did not know about the Parish Kitchen may become new guests or volunteers.
"There will be some transition and we will have to make adjustments but we won't know what that is until we get there and experience it," said Mr. Pickett.
One thing that will not change is the Parish Kitchen's mission, which began in 1974 in the basement of Mother of God Church, Covington.
"We are called to serve the poor, anyone looking for a meal or respite from the outdoors," said Mr. Pickett.
https://covdio.org/wp-content/uploads/2020/07/ParishKitchenblessing.jpg
693
1039
Allegra Thatcher
/wp-content/uploads/2015/01/CovDioLogo_dark-300x122.png
Allegra Thatcher
2020-07-15 09:34:02
2020-07-15 13:06:12
Bishop Foys blesses new Parish Kitchen, set to open July 20