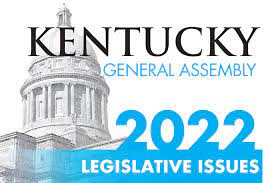 To for [email protected] register click here
Laura Keener
Editor
The Kentucky General Assembly is already more than a third of the way through its 2022 Regular Session and several bills of interest for Kentucky Catholics have been filed and are moving through the legislative process.
To help Kentucky Catholics get involved, Bishop John Iffert and the Catholic Conference of Kentucky (CCK) are hosting [email protected], March 10. Buses will leave from the diocesan Curia, 1125 Madison Ave., Covington, at 7 a.m., returning at about 3 p.m. Participants may also choose to provide their own transportation. There is no cost to attend. Registration is available on the Diocese of Covington website, www.covdio.org. The deadline to register is March 4.
The CCK is the public policy voice for Kentucky's four bishops and the Catholic Church. Jason Hall, executive director, and Andrew Vandiver, associate director, will greet constituents from the Diocese of Covington as they arrive in Frankfort. Before visiting with legislators, Mr. Hall and Mr. Vandiver will talk to constituents about the bills and issues that the CCK and Kentucky's bishops are supporting and offer some tips on how best to share their viewpoint with their senator and state representatives.
"This is a very low-stress way of getting your feet wet in the advocacy world," said Mr. Hall. "For anyone that has an interest in advocacy but doesn't know how to get started, this is a great first foray into it because we provide training, we provide talking points, we help set up appointments to try to get people with their legislator. And it's a way to do it in union with your fellow Catholics and with your bishop. It's really a way as a local Church to engage in the legislative process."
The CCK is hosting a [email protected] for each (arch)diocese in Kentucky. Faye Roch, director, diocesan Pro-Life Office, and Alan Pickett, executive director, Catholic Charities, have been working with the CCK to organize [email protected] for the Diocese of Covington. Mrs. Roch said that at the last [email protected] in 2020 a large group of constituents from the diocese participated.
"The thought is to invite dioceses in groups so that they would have their own day at the capitol and, hopefully, get more Catholics involved in the legislative process," said Mrs. Roch. "There are many things that we can learn. First of all, we're visiting the Capitol, the heart of our government … [to] meet our legislators and talk to them about issues that are important, not only to us, but to our faith."
Mrs. Roch said it is important to remember that legislators are representatives of the people in their district and, as representatives, it is important for them to hear from their constituents. In Northern Kentucky, Mrs. Roch said, when it comes to pro-life issues, "we very rarely have issues where legislators are not listening to us. So, it's also good to go down to Frankfort and show them that we support them in what they do."
Mr. Hall said there are three bills and issues that the CCK is following closely and will be informing constituents on this year.
First is HB 269, a bill that would prohibit the use of the death penalty on people who have been diagnosed with a serious mental illness. This is a bill the CCK has long supported. The House has already passed this legislation and it has now moved to the Senate. "If it is still being considered in the Senate, then we would certainly be wanting to ask senators to help get that through," Mr. Hall said.
Momentum is also growing in support of educational choice in Frankfort with greater interest in expanding the Educational Opportunity Accounts program that was passed last session. "The General Assembly passed the pilot program for certain counties and we want to take that statewide. It's one of the main issues we are trying to accomplish, so that'll be almost certainly (a topic of discussion)," Mr. Hall said.
Another major issue supported by the CCK is the "Yes for Life" campaign that will add a pro-life amendment to Kentucky's constitution. On Nov. 8, voters can vote "yes" to pass a constitutional amendment that states the Kentucky Constitution does not protect a right to abortion or the funding of abortion.
"We're going to be asking members of the General Assembly to endorse that campaign, and that will be one ask that we definitely will be highlighting," Mr. Hall said.
At [email protected], constituents can meet with legislators in groups and, conversely, legislators will have the opportunity to speak with a group of their constituents. Both will learn what the other is thinking about any issue being considered.
"Legislators are very responsive to their constituents and when they have motivated, interested constituents who travel to Frankfort, legislators want to engage with those constituents," said Mr. Hall. "It's very much in their interest, they enjoy it. For many of them that's why they got involved because they love that dynamic of representing people and then working with the folks they represent."
Can't attend [email protected] but would like to learn more about and stay up to date on legislation the CCK is following? Become a "Faithful Citizen Advocate" and sign up for legislative alerts on the CCK website, www.ccky.org.