Allegra Thatcher, Assistant Editor.
Deacon Jordan Hainsey, the Diocese of Covington's candidate for the ordination to the sacred priesthood this year, certainly didn't imagine receiving the sacrament of holy orders in an empty church. Yet for him, it's an opportunity to recognize God's continuing grace.
"It's not the full church and ceremony that you look forward to and expect, but at the same time, I'm always reminded of the great saints throughout the Church's history," he said. "I think of clergy who have been ordained and ministered to people in similar situations but yet they've been given grace to accept those challenges and they led really heroic lives amidst that."
During his year as a deacon at St. Augustine Parish, Covington, Deacon Hainsey has enjoyed preaching more than anything. Every homily, he said, ought to be geared toward the faithful in the pews.
"For me, writing and praying about homilies has been about listening to what the parishioners need to hear and what the Lord's asking for me to communicate to them."
Deacon Hainsey has also served as deacon at a parish in Pennsylvania near St. Vincent Seminary, Latrobe. He has attended both the Pontifical College Josephinum, Columbus, Ohio, and St. Vincent Seminary. He earned his bachelor's degree in philosophy in 2017. Before entering the seminary Mr. Hainsey earned a bachelor's degree in graphic design at St. Vincent College.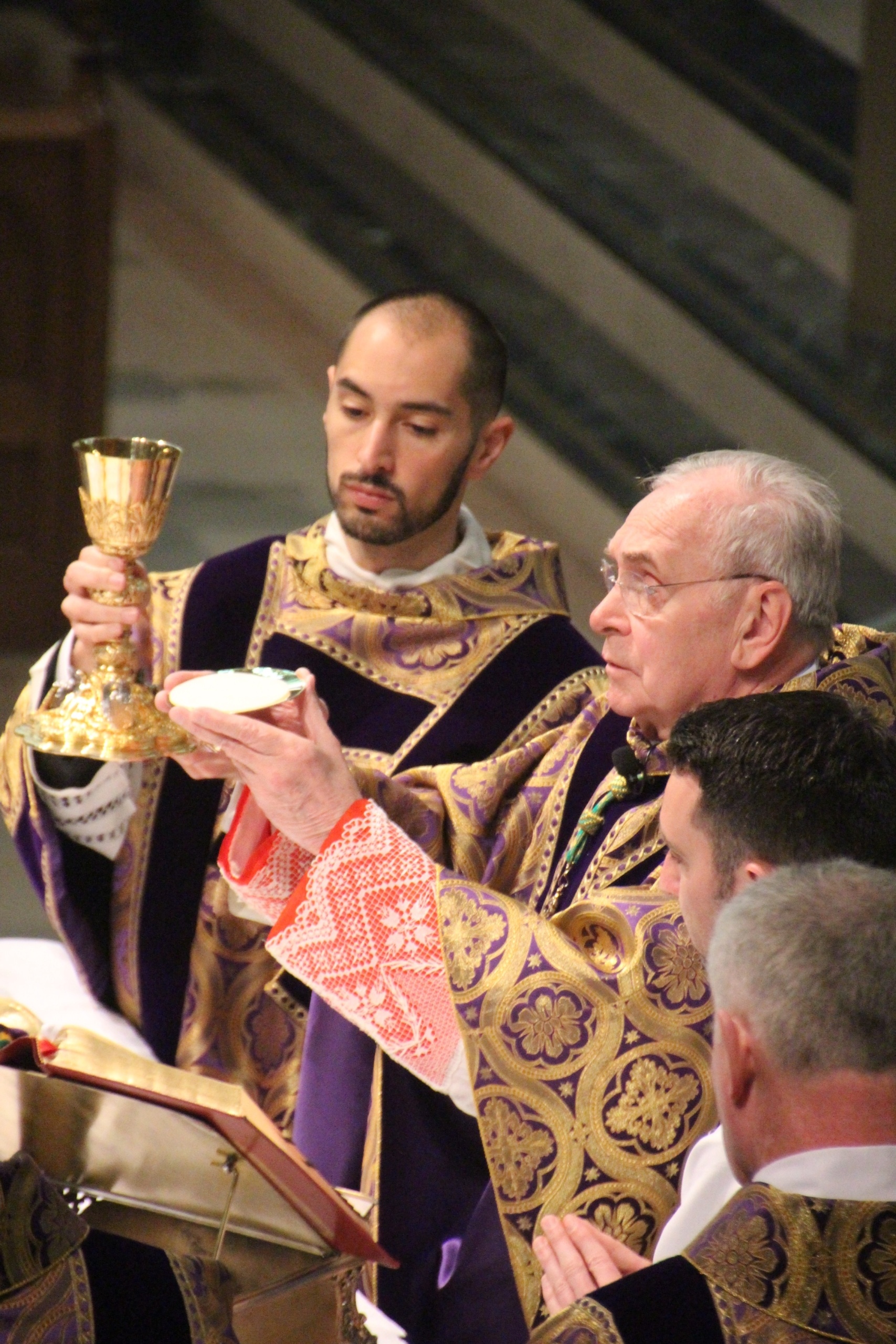 Rather than focusing on what he enjoys, however, Deacon Hainsey is anticipating the needs of others in his role as a priest. Looking forward to the priesthood, he is eager to celebrate Mass and hear confessions, calling them both "life-giving things."
"The Lord gives of himself in the Eucharist but also of his grace and mercy through the sacrament of confession — both things that we need now more than ever in the world," he said. "I'm always moved by priests in the confessional who are there to give that grace and mercy that the Lord is desirous to give to us."
In these last few weeks leading up to the ordination during the COVID-19 pandemic, Deacon Hainsey said he's sustained by Galatians 6:2: "Bear one another's burdens." He spoke about the responsibility the faithful have as the body of Christ to each other. "In this difficult time and all the different influences in the world today, it's important to remember that we have a duty to bring others to Christ, to walk with them on the journey," he said.
Deacon Hainsey's own journey to the priesthood is one very influenced by the faithful example of others. Growing up in the ELCA Lutheran church, he converted to Catholicism as a senior in high school. As he matured and was heavily involved in his Lutheran church, Deacon Hainsey said there was just always something more that wasn't being satiated. He found that in Catholicism.
"I think I have the best parents in the world," said Deacon Hainsey. "I know everyone says that, but they've always been open and supportive of me and my vocation. My mother would take me in my teens to Fatima devotions at the local Franciscan monastery, she bought me a rosary, she really did anything and everything possible to fuel the Lord's call in my life."
After attending St. Vincent College for graphic design, he worked in public relations at St. Vincent Archabbey and Seminary, where his friendships with seminarians and clergy drew him to consider priesthood even more seriously.
"One of my parish priests met me for dinner and he was the first person who said, 'Have you thought about being a priest?' For me, it took that person simply asking the question, acknowledging that they saw something in me," he said.
"I think in terms of vocations, we have to remind each other that the Lord is calling but you have to be open and listening for it," said Deacon Hainsey. He emphasized the need for silence as well as support in discernment.
"There's so much noise in the world today and it can be so hard to hear the Lord's voice … It's difficult to discern what I want to hear, but … that doesn't change the fact that the Lord is calling us. … You also need a good support system: friends, family, people to walk with you on the journey, people who will understand what you're going through, what your vocation is, and be there every step of the way with you," he said.
Each candidate for the priesthood chooses particular saints to walk with him on the road to ordination. Mr. Hainsey has chosen St. Wolfgang of Regensburg and Blessed Karl of Austria. St. Wolfgang, a bishop of Regensburg, Bavaria, inspires Deacon Hainsey because his life serves as a reminder that in priestly ministry, "it's not what we desire or want but what God calls us to, because he knows us best and how our skills and talents will be used for his benefit and glory," he said. "St. Wolfgang felt called to the hermitage but the people liked him so much that they came and carried him back to be their bishop," he laughed.
Blessed Karl of Austria (Kaiser Karl Gebetsliga) was last emperor of Austria-Hungary, and Deacon Hainsey is involved in his cause for canonization. Blessed Karl never stopped trusting in God even throughout illness, being maligned by his closest collaborators and exiled, Deacon Hainsey said. "He always remained firm and resolute in God, and for me that's always been a beautiful thing to see ourselves reflected in, following that example."
Since 2015, Deacon Hainsey has been the webmaster and graphic designer for Blessed Karl's website, EmperorCharles.org, and develops the holy reminders that they sell on its online store, things like prayer books, devotional books, statues, rosaries and anything that promotes his cause in the United States and Canada.
In his spare time Deacon Hainsey enjoys hiking, kayaking and traveling, though there has certainly been less of that because of the pandemic. Lately, he has been supplementing his extra prayer and reading time with assisting in the church renovations at St. Augustine Parish.
"It's afforded me the ability to be more hands on with some of the details in the church, working with the site contractor, in plan operations (deciding what gets painted) and lots of little things. I love details." He said the physical work augments his prayer and study as he finishes up his final class work.
For his vesting at his ceremony, Deacon Hainsey has chosen his friend and mentor, Father Stef Bankemper, pastor, St. Catherine of Siena Parish, Ft. Thomas. When Deacon Hainsey was assigned to St. Catherine about four years ago, Father Bankemper "was a great example of the priesthood."
"He has a heart for God's people and he's a true shepherd," he said. "As I thought of ordination day, and the person who would give me the symbol of service and sacrifice (the chasuble), my mind kept coming back to him as a great example during my formation."
Deacon Hainsey will be ordained May 16, 2020 at 10 a.m. in the Cathedral Basilica of the Assumption in Covington. The Mass will be live streamed through the cathedral website, covcathedral.com. The link can also be found through the diocesan website, covdio.org. All are invited to watch. Deacon Hainsey will celebrate his first Mass — the Mass of Thanksgiving — the following day at 10 a.m. in the Cathedral Basilica.
He is excited for the day and grateful for the hand of God at work through it all. "As I look forward to priestly ordination, certainly it's a difficult time in the Church, but it's also one that I know that with God's grace, he's going to do amazing things."
https://covdio.org/wp-content/uploads/2020/05/JordanHainsey.jpg
853
1280
admin
/wp-content/uploads/2015/01/CovDioLogo_dark-300x122.png
admin
2020-05-04 13:34:04
2020-05-04 15:01:40
Deacon Hainsey to be ordained to priesthood, looks to serve faithful