Deacon Rielage looks forward to bringing others to Christ in his priesthood
Allegra Thatcher, Assistant Editor.
Joe Rielage had few inklings growing up that he would one day be a priest. As Deacon Rielage prepares for his ordination Jan. 29, he reflects on the fact that most of the significant events in his life involved priests from the Diocese of Covington.
"Even before I moved to the Diocese of Covington from Cincinnati, Ohio, there was such a connection between me and the presbyterate," said Deacon Rielage. Before his parents met, his mother took a tour in Europe in the 1960s, led by a group of priests from the Diocese of Covington. Upon befriending several, Deacon Rielage's mother asked one to officiate her wedding. His sister followed suit, and eventually his parents completed their legacy with funeral Masses celebrated by priests of the diocese as well.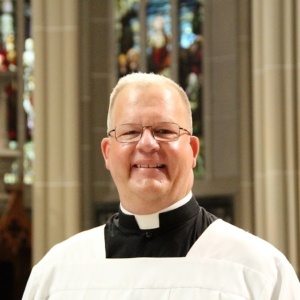 "I feel like there's a connection, this is where I need to be because all these events in my life … It feels natural for me to be here because I have such a close connection," he said. After growing up in Cincinnati and attending Elder High School, he achieved a bachelor's degree in history from the University of Cincinnati, and eventually moved to Northern Kentucky while working at the CVG Airport.
Upon the passing of his father, Deacon Rielage began to more seriously consider the priesthood, and entered seminary in 2015.
"I felt like something was missing in my life and I prayed about it, and the thought of seminary came to mind again. I knew in my heart at that time that it was the right time to do it because of the signs I received, like the peacefulness and the fire that was burning inside of me, when I received the call on Pentecost Sunday of 2014," he said.
Over the course of his time in seminary, Deacon Rielage has come to know and appreciate the value of serving others and being present with them. "It gives me comfort, but also enjoyment even in the hardest of situations, that I can be there to share sad times, to share good times with people, to bring comfort, to bring joy and hope as needed," he said. "Although it's not an easy time, it's a fulfilling time that's worthwhile. It gives me the energy and stamina to go forward, to be like Christ to other people, to be an example of Christ in the world."
He has also enjoyed his summer assignments during seminary, particularly the last two summers at St. Henry Parish, Elsmere. The support from Father Gregory Bach and Carmelite Father Aby Thampi, he said, was unparalleled. "They made me feel welcome, they made me feel like I was a part of the presbyterate," he said.
Deacon Rielage also credits Father Kevin Kahmann, pastor at Mary, Queen of Heaven Parish, Erlanger during his pre-seminary days, with having an incredible influence on his decision to pursue priesthood. Father Kahmann will vest Deacon Rielage at the ordination.
What he's most excited for, he said, is confecting the Eucharist and bringing Christ to people in the Mass on a daily basis. If he can help people along their journeys and bring them to Christ and their eternal reward, he'll be happy.
He's looking to two saints for assistance in this endeavor. St. Alphonsus Rodriguez, S.J., was a porter in the monastery in the 16th century who is an example of humility. "He just did (his work) with such joy, such happiness, and to me that just shows that even in the most mundane tasks, you can find joy in serving other people," said Deacon Rielage.
He's also turning to Blessed Carlo Acutis as an example of Eucharistic devotion. "Especially in the time of the pandemic, I understand that people are not always comfortable coming to church," said Deacon Rielage. "But we need to get young people to come back to church. Through his example of devotion to the Church, the Eucharist and the rosary, hopefully the young people can look upon him and get encouragement that God is the center and giver of all."
Deacon Rielage was ordained to the transitional diaconate April 8, 2020 in an empty cathedral in Covington. His last year in seminary hasn't gone as he anticipated due to COVID-19, but Deacon Rielage has made the most of it. Last spring when classes went virtual only, he realized in a new way that "anything can happen at any time."
"We may have everything planned out in our minds, but God works in mysterious ways to make us realize that we're not in control," he said. "Going back in the fall, with the guidelines at the seminary, there was less time for fraternity with the other seminarians, but in a way that was full of grace because it was able to make me focus more on prayer time since there were no special events. I found myself praying more and it increased my love for God, and my peace and comfort."
In prayer, Deacon Rielage has been sustained during the pandemic by Matthew 11:28: "Come to me all you who labor and are heavily burdened, and I will give you rest."
"We all get worn out, we all become so focused on the pandemic, and it's exhausting on everyone, but at the same point, nothing is stronger than God. If we put our trust in God, he will give us the strength, the encouragement and the rest we need to continue."
In his free time, Deacon Rielage enjoys traveling (when there isn't a pandemic), taking walks, especially in nature, spending time with friends and family, reading and is hoping to take up photography. He has one older sister who will attend the ordination, with her family, his extended family and close friends.
Deacon Rielage will be ordained to the Sacred Order of the Priesthood Jan. 29, 2021 at the Cathedral Basilica of the Assumption, Covington, on what would have been his mother's 85th birthday. He's convinced it's not a coincidence. He will then celebrate a Mass of Thanksgiving at St. Henry Parish, Jan. 30 at 6 p.m. Both events are by invitation only and will be live-streamed.
https://covdio.org/wp-content/uploads/2021/01/IMG_7855.jpg
853
1280
Laura Keener
/wp-content/uploads/2015/01/CovDioLogo_dark-300x122.png
Laura Keener
2021-01-13 11:58:02
2021-01-13 11:58:02
Deacon Rielage looks forward to bringing others to Christ in his priesthood