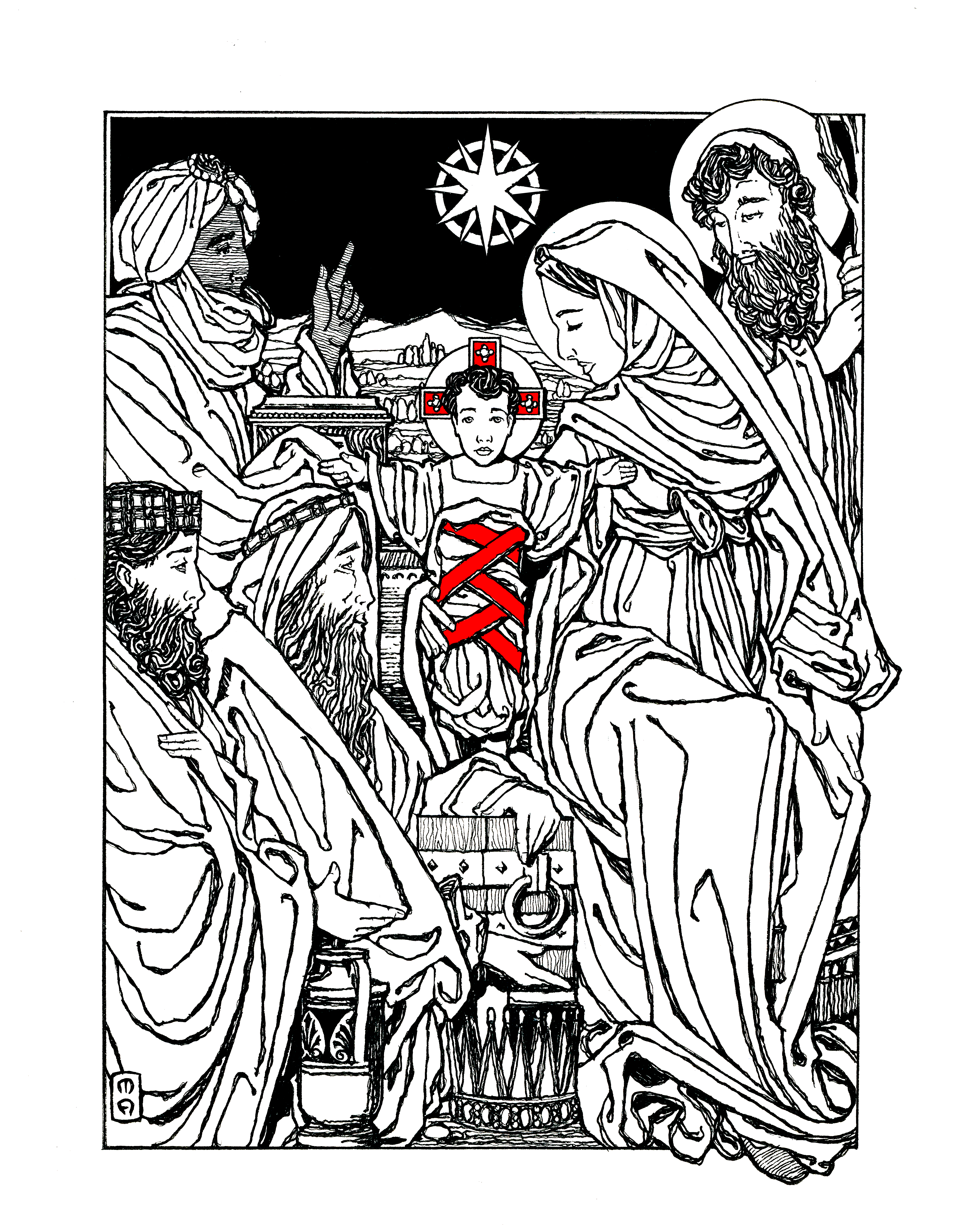 Allegra Thatcher, Assistant Editor.
Parishioners of the Diocese of Covington can expect an Advent gift from Bishop Foys — and it might look a little familiar. In conjunction with the Messenger and the Office of Catechesis and Evangelization, Bishop Roger Foys is sending families in the diocese each a bound copy of the previously run series, "The Eucharist: The Source and Summit."
The series of 16 articles has recently been published during fall 2020 in a five-part series. Its origins, however, date back several more years.
According to Dave Cooley, co-director, Office of Catechesis and Evangelization, the Eucharist series began with a request from the Office of Worship around 2015 or 2016. "It was an initiative of the office to increase Eucharistic amazement in the Diocese," he said, especially regarding Eucharistic adoration. What resulted was 13 articles, published in the Messenger once a month, spread out over a year.
This year, since the COVID-19 pandemic has limited Mass attendance and public gatherings since March, Bishop Foys became concerned that the people of the Diocese of Covington needed more support in their homes.
"The Eucharist is, as Vatican II makes clear, 'the source and the summit of our lives as Christians,'" said Bishop Foys. "There is nothing that can replace the Eucharist. And there's nothing that can genuinely replace God's people coming together in community to celebrate the Eucharist. But during these days when so many people are still not able to come to Mass because of their age or existing health conditions, we wanted to provide them with something that they could use during this time, although this is something that can be used at any time, and will serve its purpose for decades to come."
Bishop Foys decided to re-publish the series in the Messenger, in a five-part series, in hopes of enkindling that Eucharistic love once again. Then, he decided to publish the book for every family in the diocese as an Advent gift at the end of a long year.
"It became clear to me that we already had a wealth of meditations on the Eucharist that had been written over the years, some in our Messenger, some in parishes, and it seemed to me, rather than writing one pastoral letter, to gather all of these meditations together and to present them to our people for their own reflection, especially during Advent."
What's wonderful about the book, said Bishop Foys, is that it touches on so many aspects of the Eucharist. "No pastoral letter that I could have written would have covered as much ground as these individual meditations. I also wanted to send it to God's people, to every household in the diocese, to give them a broader view of the Eucharist and what it means to us. Different meditations will appeal to different people — some will find one or another more beneficial — that's the beauty of having a compilation of meditations instead of just one pastoral letter from one person's point of view."
"I think this book we've put together is so cool because of all those different aspects of the Eucharist that it looks at, and it's just scratching the surface of each of these focuses," said Mr. Cooley. "This kind of whets your appetite, then you can go and look more into that — it's a great introduction to all these ways of thinking about the Eucharist."
Bishop Foys also hopes to combat a growing trend of many professed Catholics who don't believe in the Real Presence of Christ in the Eucharist. "This is a way of helping them to come once again to embrace the Real Presence: that the Body and Blood of Christ is really and truly present in the Eucharist," he said. "Christ is also present within the community because Christ lives within each of us, and when Jesus gave us the sacrament of the Eucharist, he gave us that in the context of a community of believers, with his disciples. And he said, when you do this, do this in memory of me, so every time the community gathers for the Eucharist, it is gathering as and with the body of Christ."
The book features the 16 articles, illustrations from artist Matthew Alderman, study questions and thoughts from the faithful around the diocese about the significance of the Eucharist in their lives.
"It's a gift from all of those who wrote these meditations and it's a gift from me, to put this together so that people can have it readily available," said Bishop Foys. "It's something that is not meant to be read and then tossed aside — it serves as an ongoing meditation on every aspect of the Eucharist that these (articles) cover. … It's something I can see parents using with their children; parents and children are spending a lot more time at home, with this pandemic, and so families can use it together."
"The point of it is to realize what a blessing and a gift the Eucharist is," said Mr. Cooley. "No matter what happens in the world and what's taken from us. At the very least, we have our faith and we have the Eucharist."
https://covdio.org/wp-content/uploads/2020/12/Adventbook.tif
0
0
Laura Keener
/wp-content/uploads/2015/01/CovDioLogo_dark-300x122.png
Laura Keener
2020-12-02 15:58:18
2020-12-02 15:58:18
Eucharist books coming to parishioners' mailboxes for Advent