Allegra Thatcher, Assistant Editor.
With the jubilee celebration of 25 years of priesthood, Father Damian Hils is coming full circle by returning to his childhood parish as pastor. On June 10, he will take up leading Blessed Sacrament Parish, Ft. Mitchell, which is where his vocation began.
Father Hils remembers fondly his days at Blessed Sacrament School, serving at Mass and gazing up at the altar where he came to understand that Jesus Christ was truly present. By seventh grade, he knew he had a vocation to the priesthood.
Before finding his way to the seminary, however, Father Hils went on to college and graduate school, eventually studying medieval history and architecture at Thomas More College (now University) and the University of Notre Dame. His studies indirectly eventually led him to the altar, though he didn't see it at the time.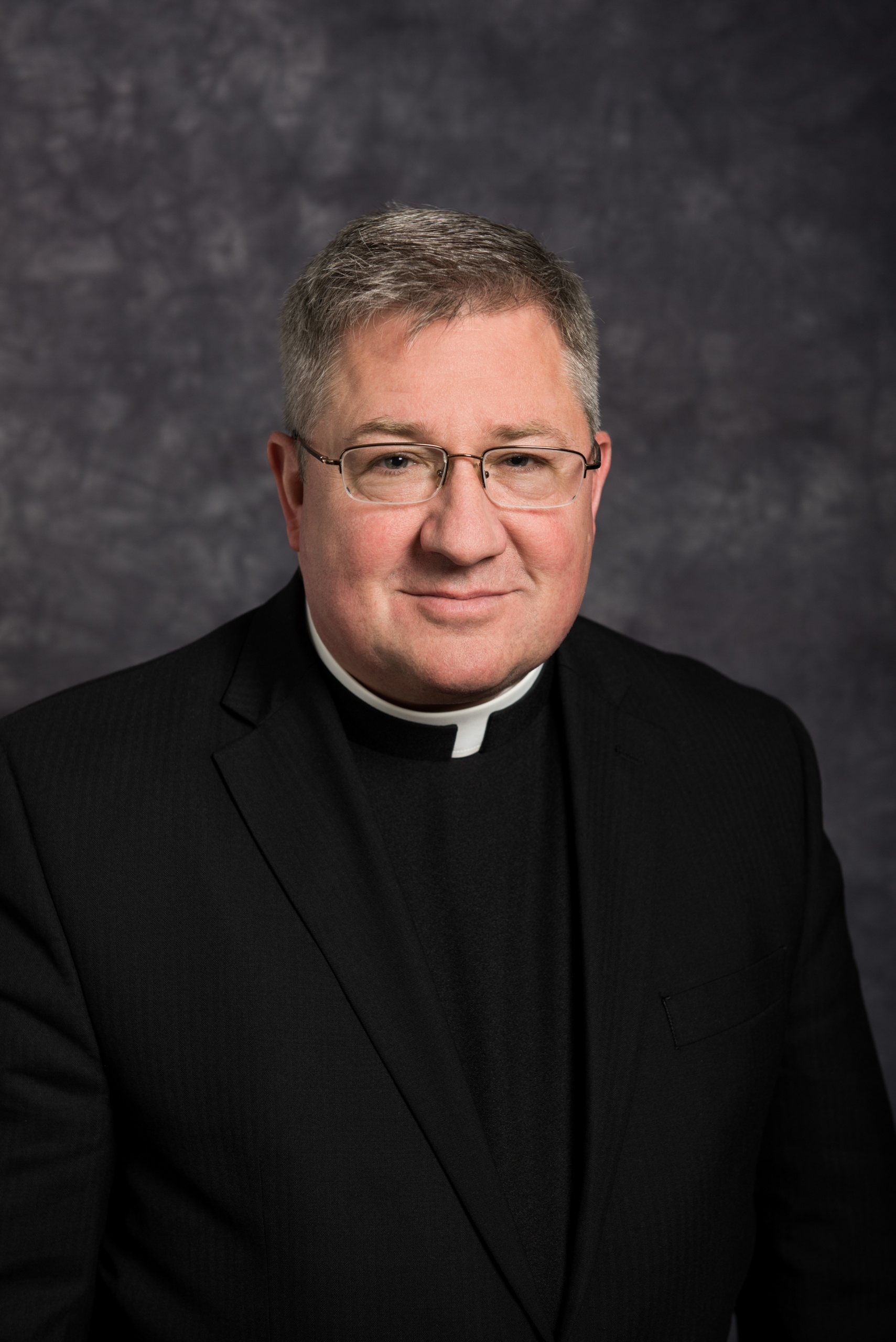 For his senior thesis as a history major in August 1984, he studied the life of William T. Mulloy, Bishop of Covington 1945–1959. As part of his research, he traveled to North Dakota to study Bishop Mulloy's life, conducting interviews and consulting diocesan records. During these three weeks, he lived with the Bishop of Fargo, the Most Rev. Justin A. Driscoll. Bishop Driscoll was very kind to him, Father Hils remembered, and asked him to sign up for seminary for the Diocese of Fargo.
Father Hils was ordained in 1995, and spent 11 years in that diocese. Nine of those years were as pastor of St. Stanislaus Parish, Warsaw, North Dakota. While there, he founded St. Gianna's Maternity Home, a pro-life home of formation for pregnant women and their children.
Since 2003, the home has offered a safe and peaceful place to help redirect women and provide for their newborn children, giving access to medical, educational and professional services.
Father Hils didn't just found the idea, however; he literally founded the building from an abandoned site and designed the home, using his architectural skills. The home includes a chapel with a shrine to St. Gianna Mola, its patron. The shrine features relics of the saint, and is dedicated to the Visitation.
"One of the best things I have ever done in my priesthood was to design two chapels," he said. "It was really a privilege to design the chapel for that home."
The other chapel bearing Father Hils' touch is a chapel for a women's dormitory for Catholic women at the University of North Dakota in Grand Forks. It is dedicated to the seven women of the first Eucharistic prayer, and includes six paintings depicting them on the side walls.
"The highlights of my priesthood were when I could design something beautiful for God," said Father Hils. "It was an absolute blast to use architectural skills during priesthood."
In 2005, Father Hils knew he had done enough work in North Dakota and it was time to come home. "I wanted to come home and work with people around here whom I'd gone to work with and gone to school with," he said.
Bishop Roger Foys welcomed Father Hils back into the Diocese of Covington and assigned him to the Cathedral Basilica as a priest upon his return in 2005. He also served as chaplain and faculty member at Covington Latin School.
"I want to thank Bishop Foys for welcoming me into the diocese," he said. "He's been very gracious and kind to me."
"I congratulate Father Damian Hils on 25 years of dedicated ministry in the priesthood," said Bishop Foys. "His ministry these 25 years has been marked by a true zeal for souls and by a spirit of cooperation with God's will. He has carried out every assignment with trust in God and with compassion and care for those he serves. He is an accomplished homilist who touches the hearts of his listeners and makes the Gospel message come alive."
During his time as a priest, Father Hils said his parishioners have taught him sincerity and love for Jesus Christ. "They are fervent in the faith … When you interact with them, you see that all that is motivating them is love for Jesus and Mary," he said. "They are deeply in love with God, and that just lifts up my own soul and inspires me to try to be a good priest."
After two years back in the diocese, Father Hils traveled to Rome to study dogma at the Pontifical University of St. Thomas Aquinas at the assignment of Bishop Foys. He said the opportunity to return to intensive study was "life-changing."
Since then, he has also served as parochial administrator at St. Matthew Parish and Mission, Kenton, and pastor at Divine Mercy Parish, Bellevue and the adjoining St. Bernard Parish, Dayton.
The last six years Father Hils has greatly enjoyed at St. William Parish and St. John Mission in Williamstown.
"The people of Williamstown are wonderful and this has been a wonderful assignment. It's a great place to be a priest," he said. "The talent and the charity of the people here is exceptional. They can fix anything and at the same time, they're so very kind and welcoming. I will miss the people greatly."
After nearly 50 years away from his home parish, Father Hils was thrilled when Bishop Foys assigned him to Blessed Sacrament Parish this June.
"I was happiest there as a Catholic," he said fondly. "Every stone of that place has a memory for me, and they're all happy memories. The sisters at the grade school loved me and I loved them and I'm looking forward to going back home where I belong."
One of his best memories is learning the Angelus with the sisters after recess in third grade. "Now I'm going to be the pastor at Blessed Sacrament and I'm going to teach the children the Angelus … that's special."
"He has kept the promises he made at his ordination 25 years ago and is an example and a witness for all priests, especially the young," shared Bishop Foys. "As Father Damian celebrates 25 years of ministry and of grace, and as he is poised now to take on the pastorate of Blessed Sacrament Parish in Fort Mitchell, I wish him many more graces and every blessing. Ad multos annos!"
"I can't tell you how excited I am that Bishop Foys gave me the opportunity to serve the people there," he said. "This assignment is the biggest highlight of my priesthood."
/wp-content/uploads/2015/01/CovDioLogo_dark-300x122.png
0
0
admin
/wp-content/uploads/2015/01/CovDioLogo_dark-300x122.png
admin
2020-05-20 13:57:05
2020-05-20 13:57:05
Father Damian Hils: the road to the altar and 25 years since