David Cooley, Messenger Contributor.
Catholic Charities – Diocese of Covington hosted its first mobile food pantry, Aug. 28, at St. James Parish, Brooksville. Due to the circumstances of COVID-19, the pantry began as a drive-thru pantry so that social distancing guidelines could be met and the guests and volunteers could remain as safe as possible.
The new "Food for Friends" program at Catholic Charities aspires to mirror the love and actions of Jesus Christ by giving food to the hungry.
In this first phase of the program, the monthly mobile food pantry will provide low-income residents of Bracken County anywhere from 20 to 40 food items at no cost on the fourth Friday of every month. These food items, provided by The Emergency Food Assistance Program (TEFAP), will vary among canned goods, rice, pasta, meat and fresh produce, depending on availability. Many volunteers from St. Augustine Parish, Augusta, and St. James Parish, Brooksville, along with others from Catholic Charities and other parishes in Northern Kentucky put food packages together, kept things organized and packed the guests' cars as they pulled up.
In addition to Bracken, "Food for Friends" has plans to open pantries in the following counties: Mason, Pendleton, Grant, Owen and Gallatin Counties.
"Sixty percent of the households in these counties have an income of less than $50,000 a year," said John Hehman, Mobile Pantry coordinator, "and that figure predates the coronavirus. We know that the need is even greater now."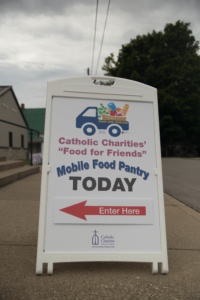 Mr. Hehman said that the people he has met with so far seem very happy that the diocese will be present in this way, particularly beyond the three northern counties that have large populations.
"At the beginning, I looked at the counties where we were planning on ministering. I chose Bracken County to start with because my aunt is a Notre Dame Sister at St. Augustine Parish, Augusta. So, I thought, it was a good place to start because I at least knew someone there," Mr. Hehman said.
Mr. Hehman said that they have based this new program on a similar existing program that is operated by Catholic Charities of Southwestern Ohio.
"When I was first hired I went and worked at some of the Southwestern Ohio pantries and talked to the coordinator to see how everything was done," he said. "By that time, two out of the three had been converted to drive-thru pantries because of the coronavirus."
It was a good showing for the first month. In total, 55 households were served.
"I was very pleased with the way everything went," said Mr. Hehman. "I couldn't have been happier with the volunteers, most of whom were from St. Augustine and St. James parishes, but there were also some volunteers from Northern Kentucky. They all worked well together and kept things moving."
One of the volunteers was Mr. Hehman's aunt, Notre Dame Sister Nance Marie Hehman. Halfway through the day she said the experience had been wonderful.
"I have been able to talk with almost everyone who has come through," she said. "Everyone is very friendly and they have been very open about their needs and their troubles."
Sister Nance said that the people had been very grateful.
"My hope is that we are positive influences on these people and that they come back. We are opening up communications between the people and the Church. Maybe when they get back on their feet they'll pay it forward or come back and help, you just never know."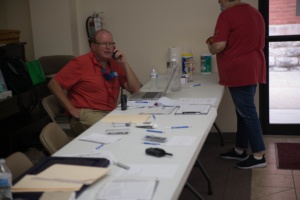 Another volunteer was Margie Hargett, a parishioner at St. Augustine Parish, Augusta.
"I'm so happy that we finally get to do something around our county," Ms. Hargett said. "It is a blessing that we are able to do this for people that need it, especially during this time. … It's a great feeling knowing that people are going to eat tonight and at least through next week."
Ms. Hargett said that she hopes more and more people come to the mobile pantry.
"We can always get more food if we need to," she said. "The more people we can reach the better."
The parishes are letting the residents of Bracken County know that they are not only there to take care of their immediate needs, but that they are there for them spiritually as well.
"There is an element of evangelization," Ms. Hargett said. "We are handing out cards to guests, which let them know the Mass schedules and addresses for both St. James and St. Augustine parishes."
According to Ms. Hargett, this was a way to let the guests know that the parishes in the area are praying for them and to let them know that they are always welcome to come to the churches to worship God.
Father Joseph Shelton, pastor, St. Augustine, Augusta, and St. James, Brooksville, said that despite this being the first day for the mobile pantry, everything went very smoothly. He said that it was important for him, as the new pastor, to make sure that the mobile pantry kicked off in Bracken County as originally planned.
"It is important to give the faithful an opportunity put the Eucharist into action," said Father Shelton. "And as we feed the bodies of our guests, I hope that we can inspire a hunger in their souls for the Eucharist. Ultimately, I hope that this experience draws people to the faith and to the Church. Our primary mission is always to evangelize."
And one final element of assistance was set up for visitors to the mobile food pantry: three representatives from Anthem insurance were there to help them fill out paperwork for Medicaid and Medicare, with no obligations.
"After years of dreaming, months of planning, and then delays and adjustments required by COVID-19, we finally pulled it off," said Alan Pickett, executive director of Catholic Charities. "We had no idea how many families would show up, but at the end of the day, the people who were supposed to be served were served. … We are grateful for this humble start, and trusting that we will be able to serve where we are called in other outlying counties in future months."
For more information, questions about eligibility or volunteer opportunities, contact Mobile Pantry Coordinator, John Hehman, at (859) 581-8974, ext. 124, or e-mail [email protected]
https://covdio.org/wp-content/uploads/2020/09/mobilefoodpantry1-scaled.jpg
1707
2560
Allegra Thatcher
/wp-content/uploads/2015/01/CovDioLogo_dark-300x122.png
Allegra Thatcher
2020-09-02 09:34:37
2020-09-02 09:34:37
First mobile food pantry hosted in Brooksville