Allegra Thatcher, Assistant Editor.
The Franciscan Daughters of Mary celebrated the perpetual profession of vows, also called final vows, of one of its own at Mass Sept. 5 at the Cathedral Basilica of the Assumption.
Sister Mary Elizabeth of the Holy Family Poulin professed vows of poverty, chastity, obedience and to uphold the dignity of all human life before Bishop Roger Foys, the celebrant, and the congregation. Concelebrants included Father Ryan Maher, vicar general and Cathedral rector; Father Allan Frederick, Father Michael Grady, Father Ethan Moore, Father Rey Taylor and Father Andrew Young.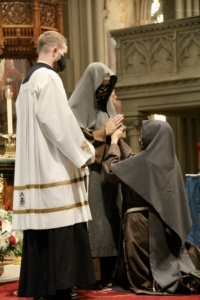 The perpetual profession comes five years after the first vows taken by a sister of the order. Bishop Foys called Sister Mary Elizabeth forward for an examination with her superior, Mother Seraphina Quinlan, to question her readiness to consecrate herself to God according to the Rule of the Franciscan Daughters of Mary. She then professed her vows and was presented with a ring. The ring is a symbol of singular fidelity to Jesus Christ. Bishop Foys also presented her with a crown of thorns, signifying unity with her spouse who wore the same crown. Sister Mary Elizabeth lay prostrate before the altar, to signify her total gift of self, and was solemnly blessed.
"It is not a question of numbers but of quality," said Bishop Foys, in reflecting on the rarity of professions in today's world. "It is the radical promises that one makes … and in making those radical promises the witness that they give to God's people … of total commitment."
The Franciscan Daughters hosted a drive-by reception at Rose Garden Mission, Covington, for Sister Mary Elizabeth following the Mass.
Newly professed sister finds fulfillment in answering God's call
Five years after first vows, and eight years since she joined the community, Sister Mary Elizabeth is more confident than ever that this vocation to be espoused to Jesus Christ answers all the desires on her heart. She's originally from Massachusetts and visited twice before entering the community of the Daughters.
"It wasn't like I had to settle for anything, it was perfect and all right here," she said. "… I felt very called to pray for priests and to work in a crisis pregnancy center with moms and babies and not only to serve the poor but to be poor with the poor like Jesus was … when I got here it was like everything that was already on my heart, it was here."
The public profession of vows, said Sister Mary Elizabeth, is "a public way of showing the world that this is what makes you happy. Not everyone is called to religious life, but what makes you happy is abandoning your heart to God and letting him fill it."
This is different from the first profession because "when we make our first profession of vows, we're saying before our friends and family that I'm going to do this and I'm going to renew it each year. The final profession is even more directed towards the broader public and it says in our constitution that we invite the people around us, the world, to see as a public witness, this is my vow forever to make Jesus Christ my spouse."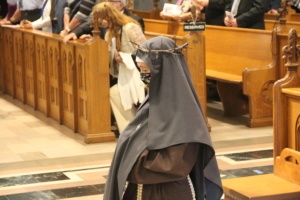 The call to religious life has always been on her heart, since she was little. She had had thoughts of religious life, but shoved those thoughts aside and filled her heart with other things as she grew older. Yet, she said, the more she pursued things God didn't set up for her, the more miserable she was. Eventually, she heard his call.
Sister Mary Elizabeth still hesitated, however, because she loved babies and children very much and couldn't see herself without them. Yet God answered that question by finding her an order with a mission — Rose Garden Mission, which hosts a pregnancy outreach center, food pantry and a free primary care clinic.
"He whispered into my heart one day, 'You are going to be the mother of thousands and thousands of children.' And I didn't realize then how literal it was, but the religious life and being a bride of Christ, it's not about ourselves but he gives us souls to pray for and those souls are our spiritual children," she said. "So many people come into our lives every day, especially here at the mission — literally we take care of thousands of people a week. They come to us with their needs and we pray for them and love them and we pray them into heaven, and that's our vocation as a spiritual mother, just like a physical mother is called to bring her earthly children to heaven."
Her unique vocation to the Franciscan Daughters of Mary has revealed to Sister Mary Elizabeth a great deal about trust.
"You become filled up not by shoving things into your heart that don't belong there, like I'm going to have this, I want this, this makes me feel good — it's really about emptying your heart and allowing God to fill it with himself and the vocation he calls you to. That's different than just choosing something, it's sitting and listening and saying okay God, you know what's going to make me happiest, and I trust you. And he does! He's filled my heart, filled every deep desire that I had."
Leading up to her profession, Sister Mary Elizabeth has been praying with the Gospel passage of the Annunciation, especially the words of Mary: "I am the handmaid of the Lord, let it be done unto me according to thy Word." Especially with the uncertainty in the world due to the COVID-19 pandemic, she's following Mary's example of surrendering every moment to God as it comes. Even though she had dreams for how her profession would go, which did not include masks and social distancing, she has realized that letting it go and trusting is much easier and better.
"It seems like everything is getting taken away, just like how it seemed for Mary," she said. "But really the Lord was showing me that it's about surrendering to his will, and that seems like a constrictive thing, but it's really not, it's really freeing. And I have to trust that everything that happens he's holding me in his hands."
Sister Mary Elizabeth gave thanks to Bishop Foys and all the priests of the diocese for their support, as well as so many other people who have prayed for her and truly been there for her along the way.
https://covdio.org/wp-content/uploads/2020/09/professionbishop-scaled-e1599659705844.jpeg
1334
2000
Allegra Thatcher
/wp-content/uploads/2015/01/CovDioLogo_dark-300x122.png
Allegra Thatcher
2020-09-09 09:55:23
2020-09-09 10:06:45
Franciscan daughter professes perpetual vows