Allegra Thatcher, Assistant Editor.
To earn their final rank, Eagle Scouts choose a project to display leadership and help the community. There are as many options as there are scouts, but some young men chose to use their project to serve the Church.
Nick Csordas, a member of St. Joseph Parish, Camp Springs, completed a project for his parish to fulfill working toward the rank of Eagle Scout in Troop 86. On July 25, he led a group of volunteers to construct shelving units for the preschool at St. Joseph School to maintain CDC guidelines due to COVID-19.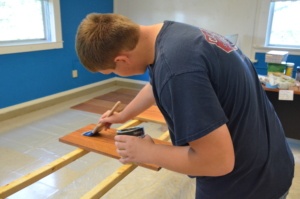 A Scout for 11 years, Mr. Csordas said to earn his final rank, he must complete a project demonstrating leadership qualities. He knew he wanted to do something for his parish, so he talked with Father Ryan Stenger, who suggested he help make the school COVID-19 friendly. Mr. Csordas attended the school himself, so he knows how important it is to the children there. He's now approaching his junior year at Bishop Brossart High School, Alexandria.
"The preschool has to expand into multiple classrooms and there is an increase in enrollment, so there has to be a way to spread the children out and have room for their toys," said Mr. Csordas.
The project includes a total of 18 shelving units, in different sizes and configurations depending on needs of the preschool. It involves cutting, measuring and assembling the boards, which will be sanded, stained and coated in polymer thane to be presentable and durable for the children.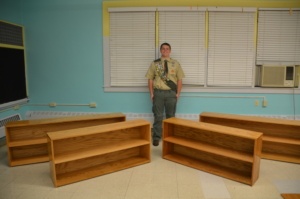 The estimated cost of materials is $2,000. Mr. Csordas reached out to parishioners and asked for donations of their time and money to assist the school.
"People have responded and said they want to help as much as they can," he said. "I wanted to help the parish in any way that I could because they've been so supportive of me over the years. I wanted to give back to them."
Daniel Litteral, Troop 779 from St. Pius Parish, Edgewood, also completed his final Scout project by assisting the Diocese of Covington.
On the corners of Martin Luther King Jr. Blvd. and Scott Blvd. along the Cathedral Basilica parking lot, Mr. Litteral turned barren dirt and dying shrubs into a healthy and flourishing plot.
"My troop had a lot of local projects in our parish and I wanted to get away from that and expand, so I asked the Bishop what the diocese needed," said Mr. Litteral. "He tasked me with fixing up the plot."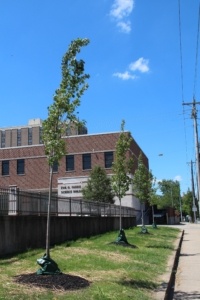 Mr. Litteral went to several nurseries and talked to them about plant types, then drew up a zealous and high maintenance plan for the space. After talking with Don Knochelmann from Buildings and Properties, he simplified the plan to grasses and hearty trees, Golden Armstrong Maples, which wouldn't require as much upkeep when he finished.
He said it took more effort to prepare the soil than to actually plant, because he had to remove stones and broken glass and till the soil to make it usable. He planted a line of trees, lined them with grass and ended with laying mulch.
"The part I liked most was random people walking down the street, who would say, 'It's looking good, thank you for doing this,'" he said. "People would have small chats with me and say how excited they were for it to look better. It's good to see it all come to fruition."
Mr. Litteral, who just graduated from St. Henry District High School, Erlanger, has been a Scout for seven years. He plans to attend Eastern Kentucky University in the fall studying nursing.
https://covdio.org/wp-content/uploads/2020/08/EagleScoutsportrait-scaled.jpg
1707
2560
Allegra Thatcher
/wp-content/uploads/2015/01/CovDioLogo_dark-300x122.png
Allegra Thatcher
2020-08-19 10:23:30
2020-08-19 10:23:30
Local Eagle Scouts give back to Church with service projects