Allegra Thatcher, Assistant Editor.
Thirty years and many stories later, Dave Otte is ready to bow out gracefully from his leadership at St. Henry District High School, Erlanger.
His long tenure started with a phone call, one Mr. Otte credits as the work of divine providence.
After teaching for 14 years in Erlanger, he worked for a textbook publishing company for two years as a developmental editor of math textbooks. In the summer of 1990 he received a phone call from Father Gene Wolfzorn, who was on the board at the time, and asked if he would be interested in the job as principal at St. Henry. Mr. Otte didn't know then it would be his last job interview.
Over the last 30 years, the school has undergone many changes with Mr. Otte at the head. About eight years in, the high school outgrew its location beside St. Henry grade school in Elsmere, and the diocese found a new property on which to expand.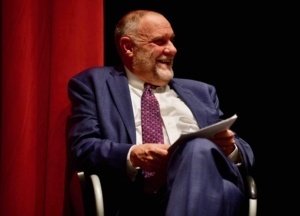 "When I started, it was more of a parish high school," said Mr. Otte. "Now we draw from all over Northern Kentucky and even Indiana. It's grown to the point where it's not just that little school up in Elsmere. It's a district high school … we draw from a very wide range of areas."
Mr. Otte has also led the school in opening up its sports complex and its 2019 fine arts addition, complete with the largest auditorium in Northern Kentucky.
His biggest success as a principal, however, isn't any physical project. It's his faculty. "I always say the faculty and staff here are absolutely wonderful and I hope everybody understands how good they really are — I think that's where it has to start," he said.
Creating an atmosphere where students can learn isn't always easy, but Mr. Otte has consistently achieved it with the staffs he has hired during his time at SHDHS. Teachers want to be on his staff because they know they can come and be treated professionally, running their classrooms with few outside issues to interrupt learning.
"We've been very fortunate, we have very few issues during the school day with the kids," he said. "It makes it a great atmosphere, a great place to teach and to learn."
He also enjoys seeing the students grow. "To see a student come in as a freshman and then when they graduate, it's such a defining moment to see them and know that we prepared them for what's next," he said. "The faith environment helps. I think the students are very comfortable here, and all of that rolls into the success of the students. They're teenagers, but they enjoy being here. It's a safe place where they see their friends, where they have adults they can go to and they are aware of that."
Mr. Otte is continually grateful for the amount of support he's had for every project and undertaking. If he's learned one thing during his time as principal, it's that "there's a lot of great kids and people."
"The support I've gotten from the diocese, especially Bishop (Roger) Foys, has just been unbelievable. He's been very instrumental in what I've done during his 18 years. He's been a tremendous inspiration to me."
Mr. Otte has known it's time to move on for a few years now, and waited until after the completion of the fine arts project during the 2019-2020 school year. He decided after the coronavirus COVID-19 shutdown that he wanted more time at home with family.
"After Bishop Foys gave us the go ahead on the fine arts project, I told him I would stay through that project," he said. "The business of staying home for two months told me that's probably where I needed to be." The Ottes will have their eighth grandchild in September, and he wants to be able to spend time with them.
"Being available to them right now has become more of a priority to me. Staying home convinced me that it was time for a change. In my mind, this was the perfect scenario to ease out and be healthy at home," he said.
Bishop Foys said, "Mr. Otte has given his life to Catholic education. His three decades at St. Henry District High School provide us with proof of that. He has been committed to the Catholic identity of our schools as well as to providing each student with an excellent overall education. From the move from the old St. Henry High School site and the building of a new St. Henry District High School to the very recent addition to SHDHS he has been on the front lines. His guidance, his wisdom, his knowledge and especially his faith have served not only him well but also every student who walked through the doors of SHDHS."
Father Gregory Bach, pastoral administrator at SHDHS, said: "Dave Otte has been very dedicated to St. Henry (District) High School in the 30 plus years he has served there. He's a very faith-filled man. His legacy will live on in the school he has built."
"I am grateful beyond words for all he has done for Catholic education in our diocese," said Bishop Foys. "I pray that he will enjoy his retirement and look forward to seeing and working with him at his parish — our Cathedral Basilica in Covington. God bless Mr. Dave Otte!"
"There's so many good stories," said Mr. Otte. "Everybody's been so great. The support has been phenomenal. Hopefully it's because we do things the right way and for the right reason."
"Thirty years went by very quickly," he said. "St. Henry is a great place to be."
https://covdio.org/wp-content/uploads/2020/02/SHDHSRibbonCutting.jpg
853
1280
Laura Keener
/wp-content/uploads/2015/01/CovDioLogo_dark-300x122.png
Laura Keener
2020-06-17 10:13:32
2020-06-17 12:01:22
Long-time principal of St. Henry District High School retires