Laura Keener, Editor.
As midnight Mass was about to begin, Dec. 24, inside the Cathedral Basilica of the Assumption all was calm and peaceful as Dr. Gregory Schaeffer, organist, and LeeAnn Kordenbrock, soloist and cantor, filled the cathedral with Christmas hymns. This year the full Bishop's Choir and congregational singing were suspended as, even on Christmas Eve, COVID-19 protocols were observed for the health and safety of everyone.
The congregation was masked and the crowd was greatly reduced yet the Cathedral was adorned in greenery and cheery red poinsettias led the way up the sanctuary steps to the altar. At the stroke of midnight, Bishop Roger Foys processed to the Cathedral's nativity scene and removed a cloth which covered the baby Jesus who laid in the manger in the Cathedral's nativity scene.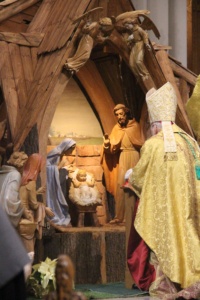 "Today is born a savior who is Christ the Lord. That is why we come together to celebrate," Bishop Foys said as he began his homily.
Acknowledging that much has changed in our lives, in our country and in our world since last Christmas, Bishop Foys said, "The message (of Christmas) is the same every year, but we don't remain the same. Our lives change, we change — we grow old, we grow wiser. This year certainly has been a year of change."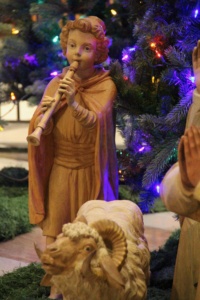 "To those who dwell in darkness a great light will shine," Bishop Foys said repeating the words from the readings. "It has been a dark year, a time of gloom a time of sadness, yet one thing that has not changed, that will never change, is what we celebrate today — a savior has been born to us and he is Christ the Lord."
Reflecting on St. Luke's nativity narrative (the Gospel reading for midnight Mass) Bishop Foys focused on the innkeeper.
"In that narrative are the saddest words, 'There was no room at the inn.' Maybe that hasn't changed that much either," Bishop Foys said. "Still in the lives of many people, in the lives of many nations, there is no room for Jesus. Every year at Christmas we have to ask ourselves, 'Do I have any room for Jesus in my life? Have I opened the door wide for him to come into my heart, into my mind, into my soul? Do I let him dwell within me or have I shut him out?"
Bishop Foys shared a message of how, even in the darkest times, it is possible to find and keep joy.
"When we let Jesus into our lives, into our hearts, into our minds, into our souls we are transformed. Once we do that, there is nothing and there is no one who can take our joy from us. As we celebrate the birth of our Lord and savior, Jesus Christ, let us open our hearts to him and let him live in us."
https://covdio.org/wp-content/uploads/2021/01/MidnightMassConsecration-scaled-e1610030786286.jpeg
2131
1707
Laura Keener
/wp-content/uploads/2015/01/CovDioLogo_dark-300x122.png
Laura Keener
2021-01-07 09:50:21
2021-01-07 09:50:21
Make room for Jesus, Bishop Foys says during Midnight Mass at the cathedral