Laura Keener, Editor.
Since 1999, the leadership of Mary Rose Mission has faithfully fulfilled its mission "To Love as God Loves" by serving those in need through the intercession of Mary. That abandonment to God's will has led the mission full-circle, with an added new ministry in a familiar place — a Guest House for families needing a home at its original home in west Covington.
Bishop Roger Foys blessed the Guest House, Oct. 10. "The volunteers and Board Members of Mary Rose Mission take to heart its mission 'To Love as God Loves'; the new Guest House is its most recent example," said Bishop Foys. "May God continue to bless them; and may the guests whose lives they touch come to know — through their care — the love of Christ."
The home originally served as a hospice for people who were in the advanced stages of a terminal illness with no health insurance and no family to properly care for them. Many people lived-out their final days there and many found or returned to their faith due to the care and support they received from the volunteers — priests, women religious, businessmen and homemakers.
"The original Mary Rose Mission house is holy ground — miracles occurred there," said Cindy Carris, vice president, as she talked about the eagerness of the Mary Rose Mission Board to re-acquire the property and open the Mary Rose Mission Guest House.
In 2008, with St. Elizabeth Healthcare expanding its hospice center, the Mary Rose Mission dissolved its hospice care, selling the house in Covington to another non-profit. Mary Rose Mission then opened its new ministry — a soup kitchen in Florence where every day volunteers continue to serve a hot meal to guests.
Most, if not all, of the guests at the Mary Rose Mission kitchen are food insecure; some are homeless.
"I get choked up every time I think of this," said Mrs. Carris, "… to see a family living in a car is just devastating. To see a young, homeless family and to know that they just need a little lift and they would be okay, it's heartbreaking to see over and over again."
Last year Mrs. Carris learned that the Mary Rose Mission house was available and she immediately knew that the mission was being called back home, this time as a Guest House for individuals and families needing a safe and secure place to live.
"Some families they just can't get the support they need. They rely on family and friends but eventually that runs out. They aren't asking for a lot — they are not asking for luxuries — just a roof over their head," Mrs. Carris said.
The Mary Rose Mission Guest House is not a program. Instead it offers its guests a stable place to live so that they can begin to rebuild their future. There is no timeline and there is no deadline. The only requirement is that guests agree to participate in personal and financial counseling.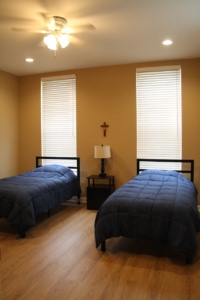 "Hopefully our guests will get stable employment and then save up some money and transition to a home or apartment where they can support themselves independently," said Mrs. Carris. "We have found that people just need a break — just need a lift — so that they can take a breath and begin moving forward."
Century Construction has completely remodeled the 3-bedroom, two story home. The home includes a full kitchen, two family rooms, two full baths and a fenced yard. The first guest has already been identified — a single mom with a small child — with plans to move in soon.
"When this person called me she was in tears. I told her no, no, no — don't cry. You have just fallen into the hands of Christ; we have got you, it is okay now," said Mrs. Carris. "She is so scared and she has this beautiful child and she just wants to make a life for him."
Mrs. Carris said she has no reservations in reassuring the mom that everything will be okay. "I can say that because it is all God now."
"If you seek to love, God will put people in your path. When he puts people in your path, he will give you a means to love," Mrs. Carris said. "We do not fix people, only God fixes people. He just gives us the ability to love and that ability to love opens avenue after avenue … We are just a small instrument here, God is just so good and it is so fun to see him work. It is so incredible to help and love somebody."
https://covdio.org/wp-content/uploads/2020/10/MRMKitchenSprinkle.jpeg
854
1280
Allegra Thatcher
/wp-content/uploads/2015/01/CovDioLogo_dark-300x122.png
Allegra Thatcher
2020-10-14 09:32:56
2020-10-14 09:32:56
New guest house at Mary Rose Mission will provide stability and hope to struggling families