Laura Keener, Editor.
The magnitude of the transformative event that had taken place for newly ordained Father Joseph Rielage and the Diocese of Covington was encapsulated by Msgr. William Cleves in his homily, Jan. 30, at the Mass of Thanksgiving at St. Henry Church, Elsmere.
"Authority is the ability to help people grow, to make their hearts larger, to broaden their vision, to deepen their faith, hope and love," Monsignor Cleves said. "Father Joseph, as an ordained minister, is given the gift of that authority to speak in a special way. Your words Father, through the sacrament of the sick, through the sacrament of reconciliation, in your everyday ministry — the counseling you will do, the spiritual direction you will give — you are going to help people grow. This is God's gift to you through the Church. How you live it is going to be your gift to God."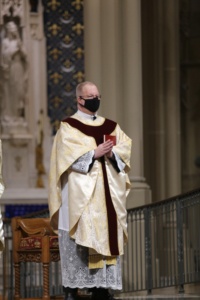 Bishop Roger Foys ordained Father Rielage a priest for the Diocese of Covington the evening of Jan. 29, at the Cathedral Basilica of the Assumption, Covington. He is the 42nd priest Bishop Foys has ordained for the diocese. Father Rielage has been studying at St. Vincent Seminary, Latrobe, Penn. When he is in the diocese, he has been assigned to St. Henry Church.
As Bishop Foys began his homily, he welcomed the limited number of guests who were invited to attend in-person and all those watching via livestream.
"We are pleased that you are here this evening to celebrate this significant day in the life of our brother Joseph and in the life of the local Church. It's been a wild ride this last year. We do things now that we never thought of doing before March of last year and we don't do things we did a year ago," Bishop Foys said referring to the limited capacity and safety protocols brought on by the COVID-19 pandemic. But, he said, while some things are different, some things never change.
"Some things don't change because they can never change — our faith, the truths and the dogmas of the Church, the sacraments," he said. "And we still ordain priests, that hasn't changed, nor has the ordination, because the Church still needs priests — shepherds after the heart of Jesus — the Good Shepherd.
"One thing that will change tonight, during this liturgy, is the change in Deacon Joseph. He will be forever changed," Bishop Foys said. "When I impose hands on his head and call down the Holy Spirit, when I anoint his hands with sacred Chrism, when I say the prayer of ordination over him — he will be changed. He will dedicate himself wholly and unconditionally and forever to the Lord and to his Church. He will make promises here tonight, promises to care for the people of God — to shepherd them — promises to provide them with the sacraments and sacramentals, promises to pray with and for them, a promise to live a celibate life and a promise of obedience to his bishop and to any of his successors."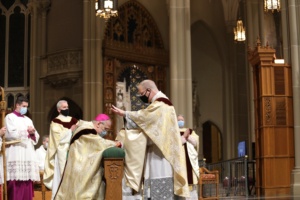 As a seminarian for the Diocese of Covington, Bishop Foys said that he knows Father Rielage well, as he has observed his formation.
"I have found him to be very compassionate, very caring, looking out always for the good of others, very attuned and in tune with the mind and the heart of the Church, very thoughtful," Bishop Foys said.
When Bishop Foys began the third Thursday Holy Hours for the priests of the diocese in Oct. 2018, praying for the victims of sexual abuse of children by priests and for the sanctification of priests and now for an end to the pandemic, Deacon Rielage gathered the seminarians at St. Vincent Seminary for a Holy Hour. It was an act of solidarity with his Bishop and the priests of the diocese.
"That tells me a great deal about him and about his witness and his example," Bishop Foys said. "I think I know that tonight, when he is ordained and becomes a member of our presbyterate, it won't be difficult for him because he has already been of one mind and one heart with us. For our part we must pray for Deacon Joseph and support him."
Bishop Foys confided that on difficult days it helps priests to know that others are praying and caring for them.
"All gathered here tonight need to pray for Father Joseph as he embarks on this ministry. Pray for all our priests and pray that other men will hear and answer God's call."
Father Rielage will return to St. Vincent Seminary later this month to complete his studies and will receive his first assignment when he returns.
https://covdio.org/wp-content/uploads/2021/02/AnointingHands-scaled.jpeg
1707
2560
Laura Keener
/wp-content/uploads/2015/01/CovDioLogo_dark-300x122.png
Laura Keener
2021-02-03 09:17:57
2021-02-03 09:17:57
Newly ordained Father Rielage has a compassionate heart and is of one mind with Church