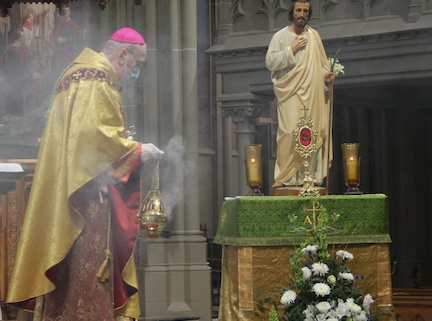 Laura Keener, Editor.
This year's solemnity of St. Joseph, March 19, carried a particularly celebratory tone in the Diocese of Covington as the Year of St. Joseph begins to unfold like an Easter lily — a common symbol for the saint. With his apostolic letter "Patris corde" (With a Father's Heart), Pope Francis declared Dec. 8, 2020 through Dec. 8, 2021 the Year of St. Joseph, in honor of the 150th anniversary of Blessed Pope Pius IX's declaring St. Joseph patron of the Universal Church. Pope Pius IX also has a special tie to the diocese — he established the Diocese of Covington in 1853.
"St. Joseph is an interesting personage in our salvation history and in the establishment of the Church," Bishop Roger Foys said in his homily during Mass at the Cathedral Basilica of the Assumption on the solemnity.
St. Joseph is mentioned in only two of the four Gospels — Matthew and Luke — and not one word is recorded in all of Scriptures attributed to St. Joseph, Bishop Foys noted.
"Where do we find a place for St. Joseph? He wasn't a prophet or a patriarch or an apostle or the Blessed Mother. Where is his place?" Bishop Foys asked.
To find the answer, Bishop Foys said, one needs to look at what Scripture says St. Joseph does.
"St. Joseph was, we are told, a just man, a humble man, a compassionate man and deeply religious man. He was obedient to God's will for him," said Bishop Foys, highlighting the three times that an angel instructed St. Joseph in his dreams to care for the Holy Family.
The first was to assure Joseph of Mary's chastity, instructing him to take Mary and the baby she was carrying into his home. In a second dream, the angel instructs Joseph to take Mary and the baby Jesus and flee to Egypt to avoid the wrath of King Harrod. In the third dream, the angel assures Joseph that King Harrod has died and it is now safe to return to Nazareth. On all three occasions, Joseph does as he is instructed.
"Joseph is always in the background but he is there," Bishop Foys said, "Two thousand years later we celebrate in a solemn way this man who was chosen to be the foster father of Jesus, who was chosen to care for the Holy Family, to look after their needs, to protect them."
In addition to patron of the Universal Church, St. Joseph is also patron of many circumstances and causes. One of those titles, highlighted in a jeweled glass window in the Cathedral Basilica, is patron of a Happy Death.
"We have a window here with Mary and Jesus standing at his death bed. Joseph is therefore referred to as the patron of a Happy Death — to have died with Jesus and the Mother of God at his side," Bishop Foys said.
In his apostolic letter, Pope Francis said that his desire to declare a year honoring St. Joseph grew during this time of pandemic. Bishop Foys read an excerpt from "Patris corde": "My desire to do so increased during these months of pandemic, when we experienced, amid the crisis, how our lives are woven together and sustained by ordinary people, people often overlooked. People who do not appear in newspaper and magazine headlines, or on the latest television show, yet in these very days are surely shaping the decisive events of our history. Doctors, nurses, storekeepers and supermarket workers, cleaning personnel, caregivers, transport workers, men and women working to provide essential services and public safety, volunteers, priests, men and women religious, and so very many others. They understood that no one is saved alone … How many people, daily, exercise patience and offer hope, taking care to spread not panic, but shared responsibility. How many fathers, mothers, grandparents and teachers are showing our children, in small everyday ways, how to accept and deal with a crisis by adjusting their routines, looking ahead and encouraging the practice of prayer. How many are praying, making sacrifices and interceding for the good of all. Each of us can discover in Joseph – the man who goes unnoticed, a daily, discreet and hidden presence – an intercessor, a support and a guide in times of trouble. St. Joseph reminds us that those who appear hidden or in the shadows can play an incomparable role in the history of salvation. A word of recognition and of gratitude is due to them all."
"That's how our Holy Father introduces this year of St. Joseph, a man who led a hidden life but who was so much a part of the lives of Mary and Jesus and who is so much a part of our life," Bishop Foys said. "It also tells us that no one — no one — is insignificant … God gives each of us our own role to play in this world, in this Church, in our community. We don't have to have our name up in lights, or be on the front cover of a tabloid or the lead story on a news show — no! St. Joseph led a hidden life, most of us will lead hidden lives — it is what we are called to do.
"Do – ahah!" exclaimed Bishop Foys. "Joseph … he wasn't a talker, he was a doer. So we celebrate today the Solemnity of St. Joseph, we thank God for giving us the gift of St. Joseph who took care of the Blessed Mother and the Son of God and who takes care of us."
https://covdio.org/wp-content/uploads/2021/03/SolemnityStJoeIncenseWeb.jpeg
420
432
Laura Keener
/wp-content/uploads/2015/01/CovDioLogo_dark-300x122.png
Laura Keener
2021-03-25 14:47:04
2021-03-25 14:47:04
On the solemnity of St. Joseph, bishop encourages all to be 'doers' of God's will