Laura Keener, Editor.
In two separate ceremonies, March 1, at the Cathedral Basilica of the Assumption, Covington, 92 catechumens and 128 candidates from the parishes and missions of the Diocese of Covington were presented to Bishop Roger Foys as this year's elect. Catechumens are unbaptized persons converting to Catholicism. Candidates are Christians who have already been baptized and are seeking full communion with the Church through confirmation and/or first Communion. The Rite of Election takes place on the first Sunday of Lent each year. The word "election" refers to a name being formally announced among God's chosen people. The elect will enter into full communion with the Church at the Easter Vigil, April 11.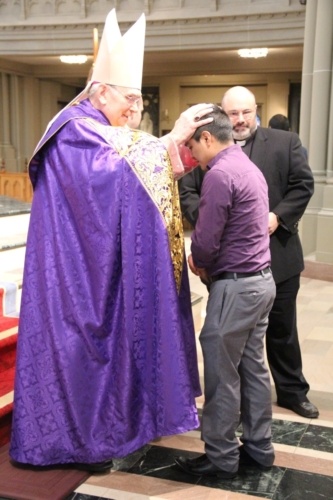 In his homily Bishop Foys said that the first Sunday of Lent is known as Temptation Sunday. The first reading recounts the story of the temptation of Adam and Eve in the Garden of Eden. The Gospel focuses on Jesus' 40 days in the desert where he is tempted by the devil.
"Everyone is tempted," Bishop Foys said. "We are tempted not because we are bad — we are tempted because we are human. Temptation is not a sin, giving into the temptation is a sin."
Jesus' time in the desert — in the silence of the desert — actually drew him closer to God, Bishop Foys said.
"Nothing and no one could dissuade him from his trust in his Father," Bishop Foys said. "The devil is alive and is well and is working and would keep us from our mission; keep us from laying claim to eternal life. This is what makes today and our gathering here today in this church so significant. The devil would keep people from the Church — the Church founded by Jesus Christ — in which and through which we work on our salvation as individuals and as a community. Our faith must make us strong. Our faith must make us see that which is good, that which is holy, that which is wholesome. We work together to make the Church what it is called to be; to repent of its sinfulness and of its sinners."
Bishop Foys ended his homily welcoming the candidates and catechumens and thanking the pastors and all those who are working to bring people to God.
/wp-content/uploads/2015/01/CovDioLogo_dark-300x122.png
0
0
admin
/wp-content/uploads/2015/01/CovDioLogo_dark-300x122.png
admin
2020-03-04 10:27:57
2020-03-04 10:29:43
Over 200 catechumens and candidates presented to Bishop Foys in two ceremonies at the Cathedral Basilica