Laura Keener, Editor.
During a drive-in celebration, June 7, parishioners at Blessed Sacrament Parish bid their pastor, Father Daniel Vogelpohl, a well-earned retirement.
Addressing attendees from the rectory balcony, Father Vogelpohl said, "In about one month, I will have been here at Blessed Sacrament and Ft. Mitchell for 21 years. There is nowhere else that I have lived that long, not even my childhood home. What this means to me is that you have truly become my family."
"After 45 years of dedicated ministry Father Daniel Vogelpohl is going to lay down the burden of administration and enter into a well-deserved retirement from administrative duties," said Bishop Roger Foys.
Bishop Richard Ackerman ordained Father Vogelpohl a priest for the Diocese of Covington, May 17, 1975. Since that time he has been associate pastor at St. Agnes Parish, Ft. Wright (1975–1978); St. Joseph Parish, Crescent Springs (1980–1984); Sacred Heart Parish, Bellevue (1984–1985); chaplain at St. Joseph Heights, Covington (1990–1993) and pastor at St. Catherine of Siena Parish, Ft. Thomas (1993–1999) and Blessed Sacrament Parish, Ft. Mitchell (1999–2020). At the diocesan level he has been director of the RCIA, Catechesis and Evangelization Office and Office of Worship (1986–1988). He is the author of the Messenger's longest running column — 34 years — "Eighth Day." Nationally, he was elected to the executive board of the Federation of Diocesan Liturgical Commissions (1991).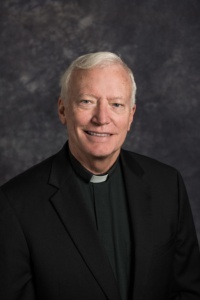 "Father Dan is a liturgist and he has really helped me," said Deacon James Fortner. Deacon Fortner has been a member of Blessed Sacrament since 2001 and was ordained a deacon last year.
Deacon Fortner said he has known "about" Father Vogelpohl his entire life and their lives would crisscross many times. They both attended St. Anthony School, Taylor Mill. Father Vogelpohl was friends with Deacon Fortner's older brother. They really began to know each other at St. Catherine Parish in 1993 where Deacon Fortner and his wife, Julie, were beginning their married life and family and Father Vogelpohl his first pastorate. In 2001 the Fortners moved to Ft. Mitchell and joined Blessed Sacrament Parish and Father Vogelpohl became their pastor once again.
Deacon Fortner said that Father Vogelpohl is an "excellent" teacher and that he is always willing to share his knowledge — from how to pronounce a word to the best place to position a microphone.
"He's really humble about it," said Deacon Fortner. "He will share his wisdom but you have to ask. He has made me more confident in my ministry."
Bishop Foys also praised Father Vogelpohl as a gifted liturgist.
"I know firsthand how competent and meticulous he is regarding the liturgy," said Bishop Foys. "Father Vogelpohl directed my consecration and installation as the 10th Bishop of Covington 18 years ago. It is a ceremony with a hundred moving parts and Father Vogelpohl had them all running like clockwork. I have always been grateful to him for that."
Father Vogelpohl has also taught at Covington Latin School (1975–1980 and 1984–1985) and, as pastor of a feeder-school, was a sacramental minister at Covington Catholic High School. At the parish, Deacon Fortner said that Father Vogelpohl is an "empowering administrator. He creates a real positive work environment for his staff."
"As a priest I find that you really need to have trust in the laity," said Father Vogelpohl. "My stance as a pastor has always been to empower the members of the parish to do the work of the parish and it's never backfired on me."
Father Vogelpohl said that whenever a parishioner would ask if they could begin a ministry or project, as long as it wasn't anti-Catholic or heretical, he would encourage them. "Often that has resulted in the blossoming of some very beautiful things," he said.
And in his priestly ministry he was devoted to his parishioners. "I watch people all the time come to him for confession or for a blessing and he drops everything and goes," Deacon Fortner said.
Father Vogelpohl enjoys traveling and has often led pilgrimages to Rome and the Holy Land. He said he enjoys being able to add to the tour guide's explanations by sharing his own experiences, like what it was like to be in St. Peter's Square as the white smoke emerged announcing the election of Pope Francis or taking the group to "must-see" places not on the scheduled tour.
One of Father Vogelpohl's favorite places is Assisi. "Everyone says they are going to spend two nights there and I say it's not enough. You need to be there longer just to absorb the serenity of the place."
Serenity is a state that Father Vogelpohl said he seeks often. At least once a year he travels to his favorite spot in Florida and does nothing but read, pray and walk on the beach.
For his retirement home he is not traveling far. He will be living in Lakeside Park and he said that he is looking forward to helping his brother priests whenever they need him.
"I think it will be fun going to different parishes," he said. Father Vogelpohl also is looking forward to helping out at St. Elizabeth Healthcare. "I plan to be very active," he said.
With the COVID-19 pandemic reaching full pitch these last few weeks, Father Vogelpohl's pastorate did not end in the way he or his parishioners would have expected or were planning.
"I was grateful that we got back to some form of public celebration of the Mass before I retired," Father Vogelpohl said. And, he found a silver lining. "I was in a panic as to when I might have time to pack up all of the things I had accumulated over 21 years. I needed to do some purging and donating and I wondered when would I have the time? All of a sudden I had all the time in the world."
When asked who has encouraged him throughout his priesthood, Father Vogelpohl unhesitatingly said the late Archbishop Harry Flynn of Minneapolis, St. Paul.
"He had been my rector in theology at seminary and he was always a real inspiration to me — extremely kind, extremely prayerful man. I always found myself saying that I want to be like Harry."
Father Vogelpohl also speaks highly of his classmate and friend Father James Ryan, who died last year. "His death was like losing a family member for me."
"As a priest I have served four bishops and all of those bishops, including Bishop Foys, have been extremely supportive. That's always a blessing," he said.
About his vocation Father Vogelpohl said, "I have been blessed. I have always loved my life as a priest, and I am so grateful to Almighty God for calling me to this wonderful life and for walking with me every step of the way. Yes, there were difficult days from time to time. But never once have I ever regretted my calling. I cannot imagine myself having lived any other life."
Bishop Foys offers Father Vogelpohl his sincere congratulations.
"In his 45 years of ministry as a high school instructor, head of the diocesan worship office, and a parish priest, Father Vogelpohl has touched the hearts and lives of thousands," Bishop Foys said. "His involvement in the community at large has been exemplary and you can find him at most all of the many gatherings that happen in a given year to support worthwhile efforts. I wish him well as he moves into this new phase of his life and pray that he has many more happy and fulfilling years as a priest. Ad multos annos!"
https://covdio.org/wp-content/uploads/2020/06/MG_9310-e1592402959315.jpg
636
955
Laura Keener
/wp-content/uploads/2015/01/CovDioLogo_dark-300x122.png
Laura Keener
2020-06-17 10:09:37
2020-06-17 10:09:37
Post retirement, Father Vogepohl plans an active ministry