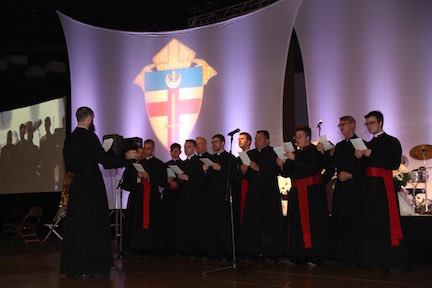 Laura Keener, Editor.
Each year the Seminary Ball grows as more parishes, schools and Catholic organizations continue their support of the seminarians studying for the priesthood in the Diocese of Covington. Over 560 people attended, Oct. 18, this year's Seminary Ball held at the Northern Kentucky Convention Center, Covington. And, again this year, 100 percent of schools in the Diocese of Covington demonstrated support of seminarians through prayers or contributions to the Seminarian Education Fund.
The diocese has 13 men studying at two seminaries — at the Pontifical College Josephinum, Columbus are: Ethan Dierig, Devin Heffernan, Timothy Hillebrand, William Pikar, Zacharias Schoen and John Tarvin; at St. Vincent Seminary, LaTrobe are: Deacon Jordan Hainsey, Anthony Anderson, John Baumann, Michael Elmlinger, A.J. Gedney, Dale Nieberding and Joseph Rielage.
In addition to its 58 table sponsors, five Gold Patrons and 15 Silver Patrons, sponsors of the Seminary Ball included: Al and Esther Kenkel, Ordination Sponsor; Kentucky State Catholic Order of Foresters and St. Elizabeth Healthcare, Acolyte Sponsors; Fourth Street Performance Partners and St. Agnes Parish, Candidacy Sponsors; and Knights of Columbus of Northern Kentucky and Serra Club for Vocations, Northern Kentucky, Reception Co-sponsors. Michael Murray, director, and the staff of the diocesan Stewardship and Mission Services Office and the Seminary Ball Committee organized the event.
Father Daniel Schomaker, vicar general and assistant director of seminarians, was the master of ceremonies for the Seminary Ball. He explained that while the 2019 Seminary Ball is the 10th annual Seminary Ball, the history of the ball extends beyond 10 years.
In 1954, Bishop William Mulloy asked the newly founded Diocesan Council of Catholic Women to undertake a fundraising effort for the newly established Seminary of St. Pius X, Erlanger. On Jan. 22, 1955 at Summit Hills Country Club the first Seminary Guild Ball was held. The theme was "Symphony in Blue," and was attended by over 200 people. The Seminary Guild Ball continued for 28 years. In 2010 Bishop Foys reinstituted a Seminary Ball not to support a seminary but to support the education and formation of the diocese's seminarians.
Father Schomaker then introduced the seminarians — who performed two songs — and the evening's keynote speaker/seminarian — Deacon Jordan Hainsey.
Deacon Hainsey became familiar with the Diocese of Covington while he was working as a graphic designer for St. Vincent Seminary. He said that when it came time to discern a vocation to the priesthood, many seminarians would encourage him to consider studying for their diocese. He became curious about the Diocese of Covington because its seminarians would boldly declare, "Our diocese is the best."
"Something stirred in me to check it out; to see for myself what made Covington the greatest for these men studying for the priesthood," Deacon Hainsey said.
On his first visit to Covington, Deacon Hainsey said, that he toured the Cathedral and Mother of God Church and other great churches of the diocese. "But I had been to Europe and I have seen beautiful churches."
He also visited many local landmarks including Cincinnati's burgeoning Over the Rhine area, the Cincinnati Art Museum and the quintessentially-Kentucky Bourbon Trail. "But I have been to plenty of places and experienced the culture," he said.
But, he admitted, there was something different about the Diocese of Covington. Part of it is Bishop Roger Foys, he said. "I was incredibly impressed on how welcoming he was, how encouraging he was with me in discerning my call. We are truly very fortunate to have Bishop Foys as our shepherd."
Another endearing quality of the diocese, Deacon Hainsey said, is its people and their support for priests and seminarians. "I've been bolstered by their prayers, and friendship — these authentic signs of support — because Covington truly loves their priests and seminarians."
But, he said, what really sets the Diocese of Covington apart are things that its people sometimes take for granted — it's growth.
"We are expanding schools. We are building additions to schools. We are operating a university. These are signs that Catholic education is alive and well in the Diocese of Covington.
"We are also beautifying churches. We are completing the façade of the Cathedral — that great structure that Bishop (Camillus) Maes saw as a great sign and symbol for the people of the diocese. This isn't just decoration, this isn't just adding things to make it more beautiful, it is a sign of this generation's — of yours and my — faith. We're here and we're staying."
Deacon Hainsey thanked attendees for their financial and spiritual support.
"Covington's story is about growth, it's about stewardship for the future and this is the reason we need good priests. Good priests begin with good seminarians that begins with good seminaries … Tonight I thank you for your support, first financial, because that's what gets us through and gives us the best education to serve you in the future. But more than money is your prayers, it's your zeal, it's your faith in each of us that is really what brings laborers to the harvest."
Bishop Foys closed the formal program with his own words of gratitude.
"We have really good people here who are faithful to the Lord and to his Word and to his Church. We do have a great diocese," said Bishop Foys. "In the early days of the Church people were added to the rolls of followers of Jesus every day because they saw the witness of the faith in the early Christians. It's the same in our day. We bring people to the faith by our witness to the faith. We are blessed in this diocese. Thank you for all you do."
https://covdio.org/wp-content/uploads/2019/10/SemBallSeminarians.jpg
288
432
Laura Keener
/wp-content/uploads/2015/01/CovDioLogo_dark-300x122.png
Laura Keener
2019-10-23 11:16:41
2019-10-23 11:30:33
Seminary Ball draws record crowd, demonstrating what seminarians say, 'Covington diocese is the best'