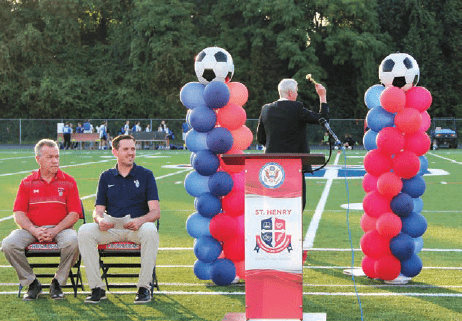 SHDHS Cru put winning committee together for a new turf field
Laura Keener, Editor
The St. Henry District High School community has pulled off in one year an athletic field feat that typically would be expected to take three years — the installation of an artificial turf field. 
"To our students, parents, alumni, stakeholders — this is your place," said Grant Brennan, principal, SHDHS, at the turf field blessing and dedication. 
Mr. Brennan and the school community gathered at Griffin Stadium, Aug. 24, as Father Kevin Kahmann, pastoral administrator, blessed and dedicated the turf field. Father Jason Bertke, chaplain, was also in attendance. David Gish, former principal who oversaw the planning and installation of the field, cut the ribbon. 
"Last October, Mr. Gish came to me about meeting with a family that was interested in making a donation towards our turf field," Mr. Brennan said as he read a statement prepared by Matt Schneider, athletic director. Mr. Schneider had planned to attend the inauguration event, which was held between the JV and Varsity Lady Cru soccer game against Highlands High School. But just a few hours before the game began Mr. Schneider had taken his wife to the hospital for the birth of their child. 
In his statement, Mr. Schneider said that "the timing could not have been better" for the October meeting about the turf field. SHDHS had recently hosted the Region Nine soccer tournament and was receiving some "backlash" about its field conditions. The meeting went well and Mr. Schneider felt confident that a new turf field would become a reality by the fall of 2023. 
"If you know Monica or Aaron Gumz, you know that our internal goal of fall of 2023 did not mesh with their go getter mentality," whose vision and vigor reset the goal to fall of 2022. 
"From that day forward, we hit the ground running at full sprint," Mr. Schneider said. 
During the dedication, game balls from the first game played on the new turf and signed by the players were presented to Mr. Gumz and RJ (Ronald) Riegler, co-chairs who oversaw the project. 
"You were the boots on the ground during this project," Mr. Brennan said to the applause of the crowd. 
Mr. Brennan said that a committee of dedicated parents held weekly virtual and in-person meetings and created an extensive campaign to raise the addition funds needed to complete the project. 
"This project took an army to accomplish," he said. "I thank anyone who made a call to a donor, sent a donor packet out or simply struck up a conversation with a friend or family member. You all played a part in making this happen."
Image: As part of the blessing, Father Kahmann sprinkles the turf with holy water. 
https://covdio.org/wp-content/uploads/2022/09/Screen-Shot-2022-09-01-at-8.56.49-AM.png
411
462
Maura Baker
/wp-content/uploads/2015/01/CovDioLogo_dark-300x122.png
Maura Baker
2022-09-01 08:57:57
2022-09-01 08:57:57
SHDHS Cru put winning committee together for a new turf field