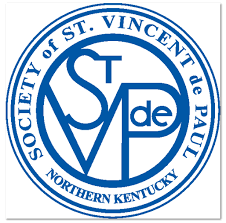 Allegra Thatcher, Assistant Editor.
A global pandemic didn't stop the Society of St. Vincent de Paul of Northern Kentucky from helping a multitude of those in need this spring — in fact, it bolstered their creative efforts.
With stores reopening Monday, June 1, executive director Karen Zengel shared how the organization continued to assist its neighbors while their normal outreach methods were limited.
"We were worried when we closed our stores in March because the stores fund a significant part of the outreach that we provide to the community," said Ms. Zengel. "We knew that there was going to be so much need throughout this and initially we were worried about our ability to meet that need."
But the local community "stepped forward and took care of us, and as a result took care of their neighbors," she said. "Through the support of different regional response funds that came together as well as the support of our generous financial donors, they answered the call and came through and allowed us to continue to serve. We've done even more than we've done in the past in terms of Vincentian outreach. That whole experience was just amazing and absolutely moving."
One of her major concerns was how to help those who reach out for emergency financial assistance, and those who usually receive home visits from Vincentians. That concern developed into a new vision for outreach.
The Vincentians are now making phone calls instead of home visits, and they've even reached beyond the normal conference of their local St. Vincent de Paul.
"There are some areas in Northern Kentucky where we don't have an active conference, so what would normally happen is if someone called for help who lived in that area, we would have to refer them to another organization to be able to help them, especially with financial assistance," said Ms. Zengel.
Ms. Zengel said she couldn't imagine turning people away during the current health and financial crisis.
"Imagine if you've just lost your job. You hear about St. Vincent de Paul and you think 'Thank goodness, there's someone who says they can help me,' and we say, 'We're sorry, we don't have a group of active volunteers who live in your area.'"
A group of Vincentians therefore made the commitment to address calls that fell outside of the areas where they typically served, and the difference was amazing, said Ms. Zengel. They helped 259 additional households for a total of almost $28,000 in emergency financial assistance, which includes rent and utility assistance.
Another way they stepped up service was by expanding Erlanger and Falmouth food pantry services from walk-in to drive through as well as home delivery. Utilizing their contact list, the society had families drive through the donation line and the manager and another employee or two would load the food into their cars from a safe physical distance. For those who couldn't make it to the physical pantry, employees drove food and supplies to their homes and left them on the porch.
As the society prepares to re-open its stores to the public, Ms. Zengel said it's been a busy month of May to study Healthy at Work plans and train the team.
"Kroger has been a wonderful example for protocols to implement for the business community," she said. "We adopted a lot of their protocols: our employees go through temperature and wellness checks every day before they enter the building, the cleaning regimen is similar, wearing masks in the building, wearing gloves when handling donations, making sure we're educating our team about their own wellness."
She and her team have adjusted the layout of the stores to allow customers to maintain distance while shopping, and the number of people inside at any given time will be limited.
They are also giving priority to voucher customers, who receive basic necessities through store credit. These neighbors make an appointment so they have the opportunity to get what they need before other shoppers come in. Ms. Zengel said they've already returned, by appointment, to the store as of last week. To make the experience special, the staff has even extended special gestures like giving children toys on their way out or picking out their own new shoes.
So while home visits are still suspended and the stores may look different upon opening, St. Vincent de Paul is busier than ever in meeting the needs of its neighbors in meaningful ways.
"I can't describe how wonderful our community has been through all of this," said Ms. Zengel. "I think that we all felt helpless and we wanted to help in some way, and whether people dropped off material donations or contributed financially, or encouraged us on social media, the love that people shared during this time was overwhelming. I want to thank everyone who helped us continue to march forward and not leave anyone behind."
https://covdio.org/wp-content/uploads/2015/06/StVincentdePaulNKY.png
223
226
Laura Keener
/wp-content/uploads/2015/01/CovDioLogo_dark-300x122.png
Laura Keener
2020-06-03 10:40:35
2020-06-03 10:40:35
St. Vincent de Paul finds new ways to reach neighbors from a distance