A letter from Bishop Roger Foys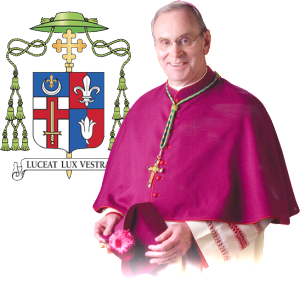 22 February 2021
Feast of the Chair of St. Peter
My dear Friends in Christ,
Praised be Jesus Christ! Now and Forever. Amen!
Our Holy Father Pope Francis declared a Year of St. Joseph from 8 December 2020 to 8 December 2021 on the occasion of the 150th Anniversary of the Proclamation of Saint Joseph as Patron of the Universal Church.
In his Apostolic Letter Patris Corde, our Holy Father refers to Saint Joseph as A Beloved Father; A Tender and Loving Father; An Obedient Father; An Accepting Father; A Creatively Courageous Father; and A Working Father. He presents St. Joseph to us as an example of true fatherhood.
Blessed Pope Pius IX declared St. Joseph the Patron of the Universal Church. Venerable Pope Pius XII declared him Patron of Workers. Pope Saint John Paul II proclaimed St. Joseph Guardian of the Redeemer. And St. Joseph has long been the Patron of A Happy Death.
Although we have no recorded words of St. Joseph in the scriptures, he stands out as a patron we can all invoke, a loving father and courageous guardian.
Here you will find suggestions about how we might celebrate this this Year of St. Joseph, in honor of the protector of the Holy Family — how we might honor this Saint who is invoked by so many.
Especially as we are in the throes of a pandemic, we invoke St. Joseph and ask him to watch over us, to protect, to intercede for us with his Son, Jesus. As St. Joseph guarded and protected our Blessed Mother and her Son we ask Saint Joseph to keep us safe, to be at our side and to walk with us during these trying and challenging times.
Be assured of my prayers. Please, pray for me.
Yours devotedly in the Lord,
Most Rev. Roger J. Foys, D.D.
Bishop of Covington
With his Apostolic Letter "Patris corde" ("With a Father's Heart"), Pope Francis recalls the 150th anniversary of Pope Blessed Pius IX's declaration of St. Joseph as Patron of the Universal Church.
To celebrate the anniversary, Pope Francis has proclaimed a special "Year of St. Joseph," beginning on the Solemnity of the Immaculate Conception, December 8, 2020 and extending to the same feast in 2021.
Our Lord and Savior Jesus Christ chose to enter the world through the human family, being born into the marriage and home of Joseph and Mary. The Bible pays Joseph the highest compliment: he was a "just" man (Matt. 1:19)—one completely open to the holiness of God in his life.
At a time when a global pandemic has forced millions to live hidden away, isolated and alone, St. Joseph  becomes, now more than ever, a model of the hidden life and patron of the "ordinary."
The Holy Father wrote Patris corde against the backdrop of the Covid-19 pandemic, which, he says, has helped us see more clearly the importance of "ordinary" people who, though far from the limelight, exercise patience and offer hope every day.
In this, they resemble St. Joseph, "the man who goes unnoticed, a daily, discreet and hidden presence," who nonetheless played "an incomparable role in the history of salvation." St. Joseph, patron of the hidden life, patron in this pandemic, pray for us, this year and forever.
O Glorious St. Joseph, with Jesus and Mary, you knew hunger, uncertainty, and illness, but you turned your chaste heart to God in your need and those of your family, and accepted the Father's response as events unfolded.
Help us to recognize God's will in our lives and to accept what He bestows in loving kindness.
May we imitate your example and be shielded with your protecting help, so that we may live a noble life, die a holy death, and secure everlasting happiness in Heaven.
Amen.