Women and Men Religious in the Diocese of Covington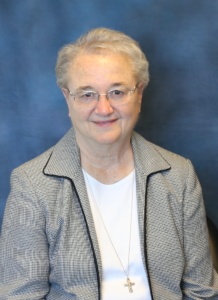 Sister Marla Monahan, SND
Vicar for Religious
Diocese of Covington
Meet the Vicar for Religious
In her role as Vicar for Religious, Sister Marla serves as the liaison between the Bishop and the men and women religious ministering in the Diocese.  She coordinates meetings between the Bishop and religious superiors, serves as a resource for religious communities, facilitates collaboration among communities, coordinates celebrations of religious life and prepares communications related to religious life.  For information about the men and religious of the diocese, contact Sister Marla at (859) 392-1500, ext. 1569.
… there is a difference between Sisters and Nuns?
Though the terms are often used interchangeably, nuns historically take solemn vows and live a life of prayer and contemplation in a monastery or convent, while sisters take simple vows and live an active vocation of prayer and charitable works in areas such as education and healthcare.
Both nuns and sisters are women religious and constitute a most beautiful way of serving Jesus Christ and all souls in the Church. They both fulfill essential tasks in the Church. While a nun is not a sister, both are addressed as "Sister."
In all cases, nuns and sisters, orders and congregations, are manifestations of the charisms of the Holy Spirit to enrich the people of God.
Unfortunately, this year's in-person diocesan women religious Jubilee celebration has been canceled due to the pandemic. "During this month of Thanksgiving, we give thanks to the Lord for calling these women and for their answering His call to religious life. We especially thank these jubilarians for the many years of faithful service to the Lord and to His people," said Bishop Roger Foys. "Their dedicated ministry has touched the lives of countless people in our diocese. Congratulations to each one of the jubilarians and may the good Lord continue to bless you."
Bishop Roger Foys sent a gift bag to each Religious celebrating a 50th or 60th Jubilee this year; the gift was in lieu of the Diocesan Celebration scheduled for November 7th. The Jubilarians are generally taken to lunch after the Jubilarian Celebration Mass. The Sisters were delighted and very honored!
Congratulations Jubilarians of 2020!
70 YEARS
Sr. Mary Ruth (Rose Emma) Riehle, SND
65 YEARS
Sr. Mary Ruth Agnes (Mary Angela) Delaney, OSB
Sr. Mary Magdelyn Strittholt, SND
60 YEARS
Sr. Rita Brink, OSB
Sr. Mary Rabe, OSB
Sr. Andrea Vasquez, OSB
Sr. Mary Carol Baglan, SND
Sr. Mary Michyl Habermehl, SND
Sr. Mary Reinette Kroeger, SND
Sr. Ann Marie Pflum, SND
Sr. Mary Juanelle Thiel, SND
Sr. Mary Karen Bahlmann, CDP
Sr. Ellen Marie Eckerle, CDP
Sr. M. Martha Garlich, CDP
Sr. Dolores Ann Gohs, CDP
Sr. Bernadette Claire Kramer, CDP
Sr. M. Emerita McGann, CDP
Sr. Frances E. Moore, CDP
Sr. Mary Luke Murphy, CDP
Sr. M. Fidelis Tracy, CDP
50 YEARS
Sr. Rosemary Lee, CDP
Sr. M. Carleen Schumacher, CDP
Sr. Lynn Stenken, CDP
Sr. Mary Jana Foltz, SND
Sr. Marla Monahan, SND
Upcoming Discernment Events:
Messages from the Sisters
Coming soon … blogs and reflections from our religious communities
Bringing the Love of Christ to the World
Check back later for informative videos from our religious communities!
Like the Sisters on Facebook!
The Diocese of Covington is home to five communities of Women Religious and one Public Association of the Faithful. Learn more about them by visiting their Facebook page and join them for spiritual events and service activities.
Click on "Like Page" to follow them