Allegra Thatcher, Assistant Editor.
Bishop Roger Foys ended the Triduum of Prayer to end the COVID-19 pandemic and its effects, especially the fear and division among God's people, with Mass Aug. 22, the feast of the Coronation of Mary. After three days of prayer, fasting and sacrifice Bishop Foys celebrated Mass at the Cathedral Basilica of the Assumption, Covington, and then traveled around the city of Covington to bless it with a relic of St. Rocco, protector against pandemics.
In his homily, Bishop Foys emphasized the importance of trusting in Mary's intercession "in this time of darkness."
"God brought light into a darkened world and the vessel that brought that light into the world was none other than the Blessed Virgin Mary," he said. "We place our trust in her because she is not only our queen, but she is our mother, entrusted to us by Jesus as he hung on the Cross."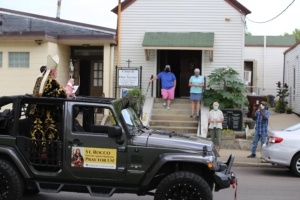 This is a time for learning from Mary's example, Bishop Foys said, such as at the annunciation and the crucifixion. "She had total trust in God even though she didn't understand anything. And yet she accepted. Her heart was broken as she held his broken body … and yet not a word of complaint. She didn't understand and yet she believed. That's what faith is.
"We end this Triduum of Prayer looking to the Blessed Mother as our example of how to live life not understanding, but accepting, believing, confident that the Lord will hear our prayer."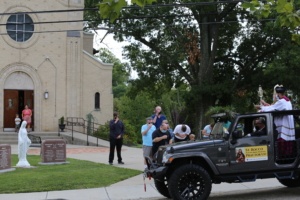 Following Mass, Bishop Foys traveled with the relic of St. Rocco to the parishes in Covington. He began with St. Elizabeth Medical Center on 12th Street, and continued to St. John the Evangelist Parish, St. Ann Mission, Mother of God Parish, Our Savior Parish, St. Benedict Parish, Holy Cross Parish, St. Anthony Parish and St. Augustine Parish. Outside each parish, he prayed to St. Rocco and blessed the people gathered and the church with the relic.
https://covdio.org/wp-content/uploads/2020/08/roccojeep-scaled.jpeg
1707
2560
Laura Keener
/wp-content/uploads/2015/01/CovDioLogo_dark-300x122.png
Laura Keener
2020-08-26 08:56:11
2020-08-26 08:56:11
City of Covington blessed with relic of St. Rocco