The Pro-Life Office and the Pro-Life Advisory Board of the Roman Catholic Diocese of Covington, guided by our Bishop to promote the sanctity and legal protection of human life from conception to natural death through prayer, pastoral care, public policy and education.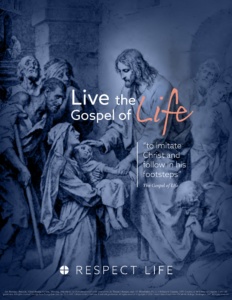 Click here for Respect Life Information from United States Catholic Conference of Bishops.
Eighth Grade Pro-Life Essay Contest
Diocesan Pro-Life Mass-Due to the COVID19 pandemic restrictions, each parish has been asked to host a Respect Life Mass on Tuesday, October 13 at 7:00 pm, in conjunction with Bishop Foys celebrating Mass at the Cathedral Basilica on Tuesday, October 13th at 7:00 pm.
Mass that evening at the Cathedral is by invitation only.