John C. Iffert was born on November 23, 1967 in DuQuoin, Illinois.
In 1992, he entered Mundelein Seminary in Mundelein Illinois as a seminarian for the Diocese of Belleville where he earned a bachelor's degree in Sacred Theology and a Master of Divinity degree. He was ordained to the priesthood on June 7, 1997 by Bishop Wilton Gregory.
Over the years, Father Iffert served as parochial vicar, administrator, and pastor of many different parishes and concurrently in numerous diocesan positions including as a member of the Diocesan Personnel Board, Defender of the Bond for the Tribunal, Spiritual Moderator for both the Belleville Deanery Catholic Youth Organization and the Teens Encounter Christ movement, Vicar Forane, diocesan Co-Vicar for Priests, member of the Diocesan Finance Council, and as a member of the College of Consultors.
He was appointed Vicar General and Moderator of the Curia for the Diocese of Belleville in 2020.
On July 13, 2021, Father Iffert was appointed Bishop of Covington. He was consecrated and installed on September 30, 2021 at the Cathedral Basilica of the Assumption.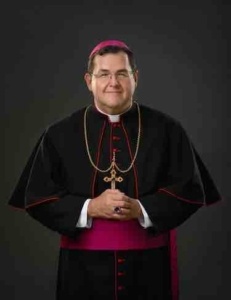 Most Rev. John Curtis Iffert
Eleventh Bishop of Covington
Diocese of Covington