Graduation 2023

Dear Graduates of the Class of 2023,
Congratulations to all of our graduates in Northern Kentucky! I am asking God's blessing on your future endeavors.
I attended the graduations of all nine Catholic High Schools again this year, as well as the baccalaureate Mass and graduation for Thomas More University. I was able to personally extend my regards for your achievement and my high hopes for future success to those graduates.
Congratulations also to all of you graduating from Pre-K, Kindergarten, and eighth grade. A special shout out to all our young people graduating from public high schools and universities. Way to go!
I am not invited to all your graduations, and I could not possibly attend them all if I were, but I want you to know that your bishop and your Church family are very proud of your accomplishments and hopeful for your future.
Recently, in America magazine, Richard A. Levins, professor emeritus of Applied Economics at the University of Minnesota, quoted from a standard microeconomics textbook. "A rich man's cat may drink the milk that a poor boy needs to remain healthy. Does this happen because the market is failing? Not at all, for the market is doing its job — putting goods into the hands of those who have the dollars to vote."
I remember a very similar sentence in my own Microeconomics 101 textbook from years ago. It is a sentiment that seems fundamental to a rational economist trained in the school of Adam Smith. Any Christian, however, must surely recognize from this statement that market forces alone are not sufficient to ensure that our economy or society functions virtuously or even morally. The economist, no doubt, would tell you that such is not the function of the market. If virtue, morality, and charity are among our goals, something more is required.
To meet the challenges that lie before you, you graduates will be formed in various ways of seeing and engaging with the world. Many of them can contribute substantially to the quality of life for God's people and foster the pursuit of knowledge. But it is also true that every field, approach, ideology, and study can also be distorted and taken to extremes.
One who pursues a love of law may well end up falling into legalism. Chemistry might lead a person to embrace a materialistic view of the world. One who trains to become a surgeon might be tempted to see the human body and human person in a merely mechanical way. Even a desire to honorably serve one's country in the military can deteriorate into militarism or a "might makes right" fallacy. The pride we take in a job well done and in supporting ourselves, can be distorted into an isolating individualism.
There is one paradigm, one code, one manner of acting in the world that can correct the tendency toward extremes and error in every other system of thought. That central and correcting belief is the commitment to love.
I encourage you graduates, as you make your way in the world, please embrace the conviction that you are created by love for love. Whatever field or approach you make your own, balance it with the greatest commandment — love the Lord your God with your whole heart, mind, and strength and love your neighbor as yourself.
Love corrects the danger of extremes in every school of human thought. Charity heals excess. The great commandment calls us back from enthroning self-interest as the sole determiner of right and rational judgment.
The Gospel of Jesus will never allow us to stand idly by as a neighbor suffers malnutrition. It will never allow us to believe that a person's dignity depends on whether or not she has the dollars to vote.
St. Augustine is quoted as saying, "Love, and do what you want." He means that pure love flowing from and patterned after the love that is God's nature will never allow us to offer any evil. It will purify every way of knowing and manner of acting. This kind of love will lead us to long for what is truly in our best efforts and to desire for ourselves what is in service to the common good.
Graduates, brothers and sisters in Christ, as you move out into the world, I pray that you will know every kind of success. So love, because love never fails.
Yours devotedly in the Lord,
+Bishop John Iffert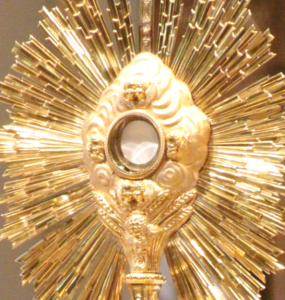 Adorers needed Sunday, June 11, 6:30 p.m. through Tuesday, June 13, 6 p.m. Click here to choose a time.
Click here to learn more about events at the Cathedral for the Solemnity of Corpus Christi.
The Diocese of Covington has been allotted 250 tickets total for attendance at all of the events sponsored by the Eucharistic Congress, which will be held July 17-21, 2024 in Indianapolis.  
Ticket winners will be responsible for the deeply discounted price of $100 for each ticket requested.
Lottery entry is only open to households registered in a Diocese of Covington parish.
Each registered household may only submit one entry in the lottery.
Tickets DO NOT cover transportation, housing, or meals and are non-transferrable for any reason.