A message from Bishop Foys
Advent  2019
My dear Friends,
O come, O come Emmanuel and ransom captive Israel!  The plaintive strains of this hymn signal for us the beginning of the season of Advent.  We beg the Lord to be with us.  Emmanuel means "God with us."  Of course, Jesus has already come to live among His people.  He was born of Mary in Bethlehem, fulfilling the prophecy of Isaiah.  He lives now among His people and touches our lives in every way.
And yet, each Advent we hear the plaintive strains of the beautiful hymn asking him to come once again.  If ever there were a time we needed to feel the presence of God with us, when we needed to recognize His presence among us, when we needed His love, mercy, and compassion that time is now!
So, we enter this blessed season of Advent calling on the Lord Who is in our presence, making His presence felt among us, to be with us to guide us, to lead us, to encourage us, to bless us!
May each of you have a fruitful Advent filled with every grace and blessing that the Lord gives so that when we celebrate the anniversary of His coming into the world as the Infant Jesus at Christmas our joy will be complete!
May God bless you and those you love!
Yours devotedly in the Lord,
Most Rev. Roger J. Foys, D.D.
Bishop of Covington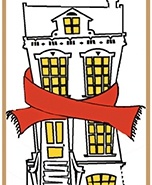 Monica Yeamans, Editorial Assistant. In recent days…
https://covdio.org/wp-content/uploads/2019/11/ESKYweb11222019.jpg
220
152
Laura Keener
https://www.covdio.org/wp-content/uploads/2015/01/CovDioLogo_dark-300x122.png
Laura Keener
2019-11-20 09:39:15
2019-11-20 09:39:15
Emergency Shelter of Northern Kentucky providing a safe, warm, life-saving shelter for local homeless