A Lenten message from Bishop Foys
My dear Friends in Christ,
Praised be Jesus Christ!
Remember you are dust; and to dust you shall return. These words, spoken each Ash Wednesday as ashes are imposed on our heads, remind us that all in our life is passing and that one day we ourselves will pass from this earth — a stark reminder, to be sure, but one that speaks of the inevitable.
When we are young perhaps these words do not carry the same gravity as they do when we grow older and approach the end of life, as we know it here on earth. But — whether young or old — it does all of us well to take the words seriously and to prepare each day for the inevitable.
The Church gives us the season of Lent to go into the desert and reflect on our life — on what our life has been, on what it is now and on what it will be going forward. Life on this earth — no matter how long — is in the greater things very short. Eternity is forever!
As we enter into the desert of Lent we pray that we do so in an effort to raise our awareness of this life in respect to the life to come, the life that will last forever.
Whatever penances we take upon ourselves in Lent we pray that they may be long lasting and make us better as we move toward the life to come, realizing that this life is but a journey to a life that will not end. May we emerge from Lent better than when we began the Lenten journey.
I wish each of you a truly blessed Lent, which will lead to a joyful Easter. God bless you and those you love.
Yours devotedly in the Lord,
Most Rev. Roger J. Foys, D.D.
Bishop of Covington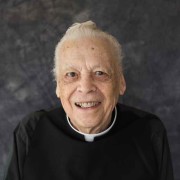 Bishop Roger Foys, the priests, deacons and members of the Diocese of Covington mourn the death, March 22, of Msgr. Allen Joseph Meier.
Eternal rest grant unto him O Lord; may perpetual light shine upon him. May he rest in peace.
Visitation will be held Thursday, March 28, 9–10 a.m., at the Cathedral Basilica of the Assumption, Covington.
Funeral Mass will be Thursday, March 28, 10 a.m. at the Cathedral, with interment following at St. John Cemetery, Ft. Mitchell.
Covington Deanery
Confessions and adoration 12 p.m.–12 a.m. NOTE: Corrected time
Friday, March 22: Cathedral Basilica of the Assumption, Covington and Divine Mercy Parish, Bellevue
Friday, March 29: St. Augustine Parish, Covington and Holy Spirit Parish, Newport
Campbell County Deanery
Penance Service: Monday, April 8, 7 p.m., St. Joseph Parish, Cold Spring
Northern Kenton County Deanery
Penance service: Thursday, April 11, 7 p.m., St. Pius X Parish, Edgewood