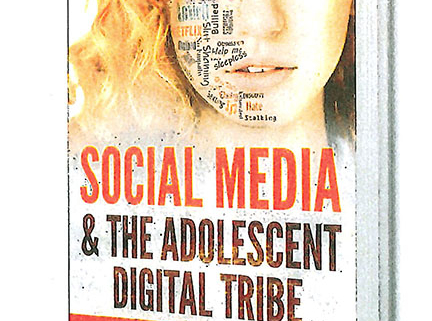 'A Wired Family' presentation helps adults navigate social media for teens
Maura Baker, Staff Writer
 In an age where technology is becoming increasingly prevalent, teens have more access to online content than ever before. 
Around 2009, Stephen J. Smith recognized how children and families were adapting to the ever-changing technology, and what he thought it was ultimately leading to. 
"As far as initially, their mental health, but just as important, how their privacy was being invaded, how they were being judged by people that will never meet them," said Mr. Smith. 
Apps like many popular social medias have a business model that entices all people, not just children, to stay on as long as possible, Mr. Smith reports, having spent much of his retired life dedicated to education on social media and how it affects children and teens through his LLC, A Wired Family. 
"What that's doing is it's creating these surges of dopamine and cortisol, which is playing with the brain chemistry. Now for an adult, that's one thing, but for children … while the brain is just being developed, it's creating issues," he said. 
The Safe Environment Office of the Diocese of Covington, responsible for training such as VIRTUS, will be sponsoring Mr. Smith for two presentations for adults in the upcoming weeks. The first will occur at 7 p.m. at St. Henry District High School, Erlanger, on Feb. 27, and the second will occur at 7 p.m. at Bishop Brossart High School, Alexandria, on March 7. Both talks are expected to continue until around 9 p.m. Presentations are free and require no reservations, but these specific presentations will be adult only. 
The presentations, titled "Social Media & the Adolescent Digital Tribe: Navigating the Teen World State," are based on a book of the same name authored by Mr. Smith himself. 
"Stephen Smith has been doing this work for decades in our area," said Julie Feinauer, director of the Safe Environment Office. "We've heard from all of our schools and have noticed a pretty big problem with social media and the kids." 
The goal is to "pack people in" for the presentation, said Ms. Feinauer, selecting St. Henry and Bishop Brossart as locations to try and reach people in both the Northern and Southern reaches of the Diocese. 
"It's mainly for parents, to foresee what's upcoming with kids, as younger ones and then into their teen years, how to monitor what's out there and what to be looking for," she said. 
While Mr. Smith has presented in the past to various schools in the Diocese, with programs for both adults and students alike, Ms. Feinauer says that "we're trying to bring the whole community together because we know that there are parishes and schools who might not be able to afford to have him come. We believe it is important to have equity as far as getting this information out."
https://covdio.org/wp-content/uploads/2023/02/SocialMedia.jpg
600
432
Maura Baker
/wp-content/uploads/2015/01/CovDioLogo_dark-300x122.png
Maura Baker
2023-02-27 14:16:37
2023-02-27 14:16:37
'A Wired Family' presentation helps adults navigate social media for teens