Meet Blessed Carlo Acutis — a witness of Christ for all
Mike Krokos, Catholic News Service
Italian teenager Carlo Acutis was beatified Oct. 10, 2020, in Assisi, Italy. He is the first millennial to be declared "blessed." His feast is celebrated Oct. 12. 
Carlo used his computer programming skills to spread devotion to the Eucharist, which he called his "highway to heaven." On the website he created, Carlo told people that "the more often we receive the Eucharist, the more we will become like Jesus, so that on this earth we will have a foretaste of heaven." 
Although he grew up in Milan, Carlo requested to be buried in Assisi, because of his love for St. Francis of Assisi. 
Carlo's faith was evident early in life. At age 7, he wrote, "To be always united with Jesus, this is my life program." 
Before his death from leukemia at age 15 in 2006, Carlo was an average teen with an above-average knack for computers. He put that knowledge to use by creating an online database of Eucharistic miracles around the world. (http://www.miracolieucaristici.org) 
Carlo's life centered around his faith: He attended daily Mass, prayed the rosary each day, received the sacrament of reconciliation weekly and prayed before the Blessed Sacrament. 
In his apostolic exhortation on young people, "Christus Vivit" ("Christ Lives"), Pope Francis said Carlo was a role model for young people today who are often tempted by the traps of "self-absorption, isolation and empty pleasure." 
"Carlo was well-aware that the whole apparatus of communications, advertising and social networking can be used to lull us, to make us addicted to consumerism and buying the latest thing on the market, obsessed with our free time, caught up in negativity," the pope wrote. 
"Yet he knew how to use the new communications technology to transmit the Gospel, to communicate values and beauty," the pope added (#105). 
There was fruit born from Carlo's devotion. His witness of faith led to a deep conversion in his mom, because, according to the priest promoting his cause for sainthood, he "managed to drag his relatives, his parents to Mass every day. It was not the other way around; it was not his parents bringing the little boy to Mass, but it was he who managed to get himself to Mass and to convince others to receive Communion daily." 
Carlo also was known for defending kids at school who were picked on, especially students with disabilities. 
Pope Francis called Blessed Carlo a witness of Christ for younger generations. But Carlo's words and actions are worth all people emulating. 
"The only thing we have to ask God for, in prayer, is the desire to be holy," Blessed Carlo once said. 
As we celebrate his life and continue our journey of faith, together we say: Blessed Carlo Acutis, pray for us. 
Mike Krokos is editor of The Criterion, newspaper of the Archdiocese of Indianapolis.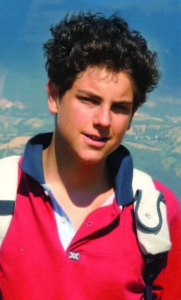 Going deeper 
Carlo Acutis used his talents in digital media and devotion to Jesus in the Eucharist to create a website dedicated to sharing Eucharistic miracles that have occurred around the world. The website offers an especially useful digital "museum" where all of the Eucharistic miracles are beautifully organized and displayed. Visit his website at http://www.miracolieucaristici.org. 
St. Henry Parish, Elsmere, has created 41 Eucharistic Miracle panels, including two panels that introduce Carlo Acutis and his miracles project, that schools and parishes are welcome to borrow. Contact St. Henry Parish, (859) 727-2035.
/wp-content/uploads/2015/01/CovDioLogo_dark-300x122.png
0
0
Maura Baker
/wp-content/uploads/2015/01/CovDioLogo_dark-300x122.png
Maura Baker
2022-10-27 10:16:01
2023-05-19 10:19:13
Meet Blessed Carlo Acutis — a witness of Christ for all