Easter 2023

Dear Brothers and Sisters,
He is risen! He is truly risen!
Happy Easter! May your joyful celebration this day help you to come to know the Risen Lord and to be his witness among your family, friends, the Church, and even to the ends of the earth.
Because many parishes have (beautifully) embraced the tradition of song and hymnody, there is a text of the Easter Mass that you may not hear on Easter Sunday. It is the Easter Antiphon, the first words that the Roman Missal offers to be spoken (or sung) to God's people on Easter morning.
I have risen, and I am with you still, alleluia.
You have laid your hand upon me, alleluia.
Too wonderful for me, this knowledge, alleluia, alleluia. (Cf. Ps 139:18, 5-6)
Who is the one who speaks these words and proclaims himself risen from the dead? Clearly, it is the Lord Jesus Christ. The one who breathed his last on the cross takes air and speaks once more.
And to whom does he speak? Who does the risen Jesus acknowledge with wonder and thanksgiving? God the Father, of course. To the one who loves him and to whom he responds with complete love and fidelity, Jesus cries with welcoming joy. He trusted completely in the Father's assurances. Now Jesus, the firstborn of the new creation, sings his love and awe.
The words of the antiphon are borrowed from Psalm 139, but the Church uses these words to invite Christians into the encounter between God the Father and God the Risen Son. Resurrected life is, first and always, a relationship with the living God.
Among us there are those of you who God has been drawing with bands of love toward baptism. We rejoice for you! By baptism and incorporation into Christ, you receive the gift of adoption as sons and daughters of God. By that same gracious action, God gives us to one another as brother and sister in Christ. We are awed and grateful.
Inspired by the newly baptized, we all renew our baptismal promises at Mass on Easter Sunday. The text that introduces those promises reminds us that we are committed to serving God in the Church. Our life of grace flows from our relationship with the living God and is lived in the community formed by Jesus. We have new life in the love of God, so that we can love God and one another.
As you renew your baptismal promises, please remember this truth and join your heart to Jesus' song of greeting and joy: You have laid your hands upon me, alleluia. Too wonderful for me, this knowledge, alleluia, alleluia.
Happy Easter everyone! Because Christ has sought us out and called us into relationship with himself, we now have a share in his resurrection. May the realization that our eternal life with God has already begun, lead us to love one another as Jesus loves.
Yours in the awe and joy of the Resurrection,
+Bishop John Iffert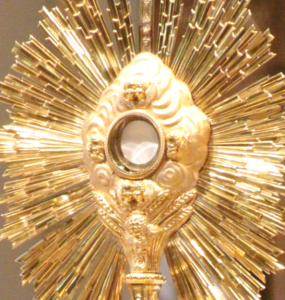 Adorers needed Sunday, June 11, 6:30 p.m. through Tuesday, June 13, 6 p.m. Click here to choose a time.
Click here to learn more about events at the Cathedral for the Solemnity of Corpus Christi.
The Diocese of Covington has been allotted 250 tickets total for attendance at all of the events sponsored by the Eucharistic Congress, which will be held July 17-21, 2024 in Indianapolis.  
Ticket winners will be responsible for the deeply discounted price of $100 for each ticket requested.
Lottery entry is only open to households registered in a Diocese of Covington parish.
Each registered household may only submit one entry in the lottery.
Tickets DO NOT cover transportation, housing, or meals and are non-transferrable for any reason.