A native of Courtrai, West Flanders, Belgium, Camillus Paul Maes was born on March 13, 1846. While studying in a Belgian seminary, Camillus Paul decided to dedicate himself to the American missions.
Father Maes was ordained on December 19, 1868, in Belgium. He arrived in the United States on May 9, 1869, and began his ministry in the Diocese of Detroit.
While serving in Detroit, Father Maes wrote a biography of the Rev. Charles Nerinckx, pioneer priest of Kentucky and co- founder of the Sisters of Loretto at the Foot of the Cross in Marion County, Kentucky.
In 1880, Father Maes was appointed Chancellor of the Detroit Diocese.
Father Maes was officially appointed Bishop of Covington on October 1, 1884, the first diocesan priest in Detroit to be elevated to that rank. Archbishop William Elder of Cincinnati performed the consecration on January 25, 1885, at St. Mary Cathedral in Covington.
During his long tenure in Covington, Bishop Maes was responsible for erecting the present Cathedral Basilica of the Assumption on Madison Avenue.
Bishop Maes departed this world on May 11, 1915, and was laid to rest at St. Mary Cemetery in Fort Mitchell, Kentucky.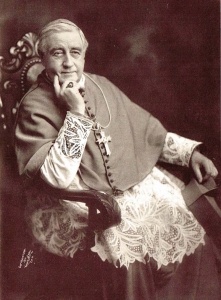 A Prayer for Bishop Maes
Grant, we pray, almighty God, that the soul of your departed servant Bishop Camillus, to whom you committed the care of your family, may, with the manifold fruit of his labors, enter into the eternal gladness of his Lord.
Who lives and reigns with you in the unity of the Holy Spirit, one God, for ever and ever. Amen
Diocese of Covington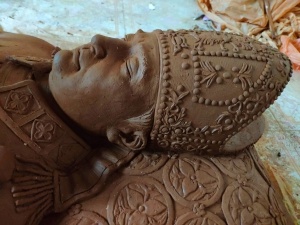 Clay mold of sarcophagus
A clay mold of the sarcophagus of Bishop Maes created by Liturgical Arts Studio, Philadelphia. The finished sarcophagus will be crafted from white marble and placed in a newly created mausoleum in the Cathedral Basilica of the Assumption, Covington.
Diocese of Covington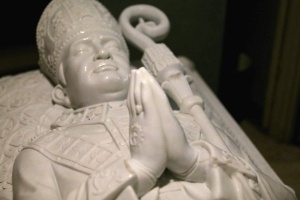 Completed sarcophagus
The lid of the sarcophagus features a hand-carved white marble effigy depicting Bishop Maes, in full pontificals, lying in repose.
Diocese of Covington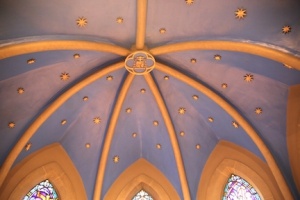 Mausoleum Vault
The entire tomb sits beneath a starry vault, reminding God's Pilgrim People that our ultimate goal is Heaven.
Diocese of Covington