Rev. Robert J. Reinke, 91, passed away Sept. 21. He was a priest for the Diocese of Covington for nearly 66 years.
Robert Reinke was born May 1, 1932 in Bellevue, Ky., to Leo Anthony and Marguerite (Hils) Reinke. He attended St. Anthony School, Bellevue, and St. Xavier High School, Cincinnati. When Bishop William Mulloy heard that he was interested in the priesthood, the bishop encouraged him to transfer to Covington Latin School. He made the transfer and graduated from Covington Latin School in 1950.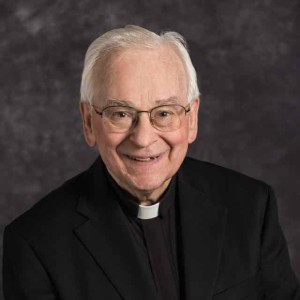 Father Reinke attended two years of college at Nazareth Hall (1950–1952) in St. Paul, Minn., continuing his seminary formation for another two years (1952–1954) at St. Paul Seminary, St. Paul, Minn., where he earned his B.A. degree in philosophy. For four years (1954–1958) he studied theology at the North American College, Rome, Italy.
He was ordained, Dec. 15, 1957, by the Most Rev. Martin J. O'Connor, North American College, Rome, Italy. He and his class are considered part of the class of 1958, but were ordained early so they could experience celebrating Mass at historical locations such as the Tomb of Peter, the Catacombs and the Ancient Church of Rome. In an interview with the Messenger in 1997, Father Reinke said that those Masses helped individuals "realize the connection with the early history of the Church."
Father Reinke returned to the Diocese of Covington in 1958 and was appointed assistant pastor, Cathedral Basilica of the Assumption, Covington (1958-1959) and faculty at Covington Latin School (1958-1965). Teaching was a vocation that Father Reinke never thought about for himself, but he said goodheartedly in a 2008 Messenger interview, apparently that's what God wanted. He was assigned director, Diocesan Religious Education Office (1965–1969) and chaplain at Thomas More College (1969–1972).
Other assignments included assistant director, Marydale Camp and Retreat Center (1959–1962); chaplain, Catholic Committee on Scouting Northern Kentucky and, according to Deacon Mike Lyman, was spiritual advisor for many years for the Society of St. Vincent de Paul NKY until Deacon Lyman was assigned spiritual advisor in 2018.
"What stands out about him the most for me is he always had a smile and he was always so upbeat and so willing to help people," said Deacon Lyman.
In addition to working with Father Reinke at the Society of St. Vincent De Paul NKY, earlier Father Reinke concelebrated the wedding of Deacon Lyman and his wife, Joyce. Mrs. Lyman was a parishioner at St. Vincent De Paul Parish where Father Reinke was pastor. She said that Father Reinke's "overall kindness and spirituality really shone through for the people. He was very pastoral and really a good example of what it meant to be pastoral to your people."
Deacon Lyman said that Father Reinke had a quick wit, recalling a time when he drove Father Reinke along the narrow and winding road to the mission church, St. John, Dividing Ridge, to celebrate Mass. He was helping out while the pastor was away.
"When he began his homily he said, 'I'm really happy to be able to bring Jesus to you. Unfortunately, we lost him on the last turn the deacon took.'"
Father Reinke has served as assistant or associate pastor at: St. Paul Church, Florence (1962–1965); Mother of God Church, Covington (1965–1972); St. Joseph Parish, Crescent Springs (1972–1977); and Holy Cross Church, Latonia (1983–1986).
His first pastorate came in 1977 at St. James Church, Ludlow, where he continued as co-pastor of the newly merged Sts. Boniface and James Church (1979–1980) and then pastor, Sts. Boniface and James Church (1980–1983).
"What he stressed the most that really sticks with me is the idea of the parish being one big family and that everybody in the parish had a role to play and everybody in the parish had a role in decision making," said David Schroeder, parishioner at Sts. Boniface and James Parish, Ludlow.
Mr. Schroeder said that he was 19 years old when Father Reinke invited him to be a member of the Parish Council, an example of Father's assurance that everyone is welcome, has a voice and a role to play. "He was very interested in listening to people, he was an extremely good listener, a very kind and generous person. When you gave him your opinions, he really took them to heart."
This style of leadership, Mr. Schroeder said, was the essential quality Father Reinke provided to successfully merge the two Ludlow parishes.
"He made sure that everybody from both parishes felt like they were part of something new," said Mr. Schroeder. "He really worked hard to bring those communities together and that's hard to do when you have 100 years of tradition behind you. But he pulled it off and he did it, I think again, it's the kindness and the generosity that he displayed … He was such a humble quiet man, but he had a way about him that really drew people together and really led them forward. He was a very quiet leader, but he was definitely a leader. He was somebody that could rally the troops whenever they needed to be rallied. And nobody asked questions. If Father said so, then we did it because we trusted him, he had built that trust."
Father Reinke was pastor St. Vincent de Paul Church, Newport, from 1986 until his retirement in 1997. After his retirement, Father Reinke returned to Sts. Boniface and James Church as sacramental minister.
"We were just ecstatic that he was willing to come back and be with us again, and we welcomed him with open arms," said Mr. Schroeder.
Father Reinke is survived by his nieces and nephews: Antoinette "Toni" Reinke, Deacon Rick (Jean) Dames, Judy (Neal) Kreinest, late Janeen (Dan) Donoghue, Joyce (Larry) Kreinest, Rob (Beth) Dames, Mike (Jenny) Dames, and Joelle (Joe) Michels. Also 21 great nieces and nephews and 25 great great nieces and nephews.
A Vigil service was held Sept. 26, with Mass of Christian Burial held the following day at the Cathedral Basilica of the Assumption, Covington. Father Reinke is interred at St. Mary Cemetery, St. Bernard, Ohio.
Memorials are suggested to the St. Vincent De Paul Society, 2655 Crescent Springs Rd., Covington, KY 41017 or to the Priests' Retirement Fund, Diocese of Covington, 1125 Madison Ave., Covington, KY 41011.
/wp-content/uploads/2015/01/CovDioLogo_dark-300x122.png
0
0
Laura Keener
/wp-content/uploads/2015/01/CovDioLogo_dark-300x122.png
Laura Keener
2023-10-10 09:09:30
2023-10-10 09:09:30
Father Reinke remembered as a listener, quiet, humble, leader