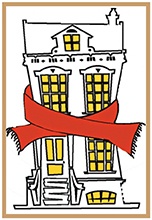 Monica Yeamans, Editorial Assistant.
In recent days the nighttime temperatures dropped well below freezing. There are limited beds available in emergency shelters all across this nation not just in the Commonwealth of Kentucky. The realities of homelessness are visible on the cities' street corners and overpasses. This week — National Hunger and Homelessness Awareness Week (Nov. 16 – 24) — encourages the community not just to see but to gain insight.
Adult, white males and females, 62 or older, are the fastest growing segment of the homeless population. They are typically retired, on a fixed income and with rising rents can no longer afford an apartment.
The Emergency Shelter of Northern Kentucky,Covington, is trying to help by providing a safe, warm, life–saving shelter for the local homeless, men and women, ages 18 and up. At the current location this year there are only 32 beds available on a first-come, first–served basis compared to 75 beds in past years at the same location, due to stricter enforcement of fire codes.
The Emergency Shelter of Northern Kentucky is a "low barrier" winter shelter which means, "We remove all the barriers to entrance or as many as we can remove," said Kim Webb, executive director of the shelter. "We are not asking for a commitment to programming; we don't require a drug test; we don't require a background check; we simply are here to provide a life-saving bed for you so you don't suffer or die outside."
Thanks to an agreement with the local Salvation Army the 35 or more homeless who would have ordinarily stayed at the Emergency Shelter have a spot on the floor at their gymnasium during the nights below freezing. This is only a temporary solution to a growing homeless population.
The Emergency Shelter must staff the Salvation Army building during the nights it is in use as a shelter and they also must launder all the blankets every day. The staff sets up every evening and must clear the gym every morning. Homeless men and women sleep on Red Cross mats or cots or yoga mats with two or three blankets to keep warm (the gymnasium is cold).
The Emergency Shelter is also responsible for trans- porting the clients to and from the Salvation Army build- ing that is located 12 blocks from the Emergency Shelter building.
"We're making it work because it is the right thing to do; because it is a human dignity issue," said Ms. Webb. "We're keeping people alive … We are dealing with life and death and our focus is on the life."
A few churches have taken in some homeless in past years to help out — usually in January or February during the coldest months.
"The reality is there are no beds. There are no consistent beds. The churches know the parameters and how hard it is to do this; to operate what deems to be a right to shelter when temperatures are below 32. It is challenging at best. It has stretched us in ways that we never thought we could stretch. In 2019 the fact that we have a growing senior population sleeping on a yoga mats is incredulous," said Ms. Webb.
Nationally, about two-thirds of homeless people are single adults with 70 percent men, 29 percent women and one percent of people who identify as other, said Ms. Webb. For the most part, seniors are who are homeless do not have an addiction problem but instead are being priced out of apartments. From the winter of 2016–2017 to the winter of 2017–2018 there was an 87 percent increase in seniors that are homeless; many with increasing health issues and with walkers or in wheelchairs.
"It is heartbreaking, heart wrenching," said Ms. Webb. "We are the only handicap accessible shelter; the only option for them."
"We have always known that the risk is greater for someone outside our building than inside our building," said Ms. Webb. "We know that the unsheltered homeless are three times more likely to die outside than someone who is sheltered. We know that across the nation and the state of Kentucky that in other buildings and shelters when they deem it to be a white flag day (bitterly cold) or a weather concern the occupancy changes — it becomes unlimited to a certain degree because they value life. For me, as a Catholic, this is a life issue. Right to life is not just about an unborn baby. This is about the other end, too, of the adults in our community."
Ms. Webb said that in Northern Kentucky she sees the best of humanity.
"People really do care. This is my faith community and this is what we do," she said about the people who support the Emergency Shelter.
While the Emergency Shelter is non-denominational, Ms. Webb said, "We know the power of prayer and faith. Our focus is the fact that we meet people where they are when they are in need of a compassionate and non-judgmental way. My job is to keep [them] alive and provide the basic necessities so that [they] can maintain hope and dignity and hopefully have them end their homelessness."
To help keep homeless men and women warm during the daytime hours and nights above 32 degrees the Emergency Shelter collects and distributes winter hats, gloves, hand warmers, scarves, boots, socks and long johns for their clients. Twin-size blankets are also needed for those who sleep on the gym floor at the Salvation Army building.
Volunteers are needed to help with the blanket washing and drying. Help is also needed with client transportation to and from the Salvation Army building.
For information about the Emergency Shelter of Northern Kentucky, Covington, call (859) 291-4555.
https://covdio.org/wp-content/uploads/2019/11/ESKYweb11222019.jpg
220
152
Laura Keener
/wp-content/uploads/2015/01/CovDioLogo_dark-300x122.png
Laura Keener
2019-11-20 09:39:15
2019-11-20 09:39:15
Emergency Shelter of Northern Kentucky providing a safe, warm, life-saving shelter for local homeless