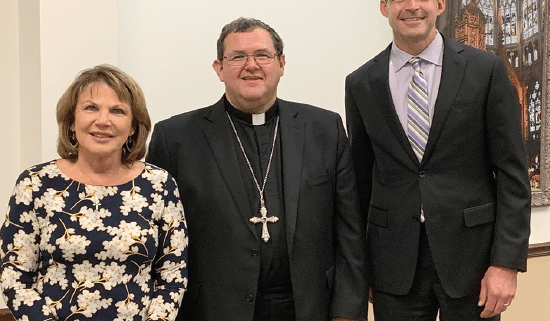 Grants awarded at DPAA celebration reception, wrapping up 2022 campaign
Maura Baker, Staff Writer
 Supporters of the Diocesan Parish Annual Appeal (DPAA) gathered for a reception in the Bishop Howard Memorial Auditorium, Covington, Aug. 25, to celebrate the success of the 2022 campaign. Service grants were also awarded as a component of this reception, wherein schools, parishes and charitable organizations within the Diocese received funds to continue to serve the people of the Diocese of Covington. 
In attendance at the dinner were donors and grant recipients, but also DPAA leaders such as Mike Murray, director, Office of Stewardship and Mission; Bishop John Iffert of the Diocese of Covington; Karen Riegler, 2022 DPAA general chair and Matt Hollenkamp, 2022 DPAA leadership gifts chair. 
"Our gifted pledges today total $3,820,976," announced Mrs. Riegler at the reception. This year, 44 of the 53 diocesan parishes met or exceeded their DPAA contribution goals, and 42 parishes, schools and agencies were rewarded grants totalling in $265,000 for 56 different projects. 
"It's amazing this journey that we're on," said Mr. Hollenkamp about the success of this year's campaign. Continuing, he announced, "Our largest gift (this year) was $40,000. As of this week, we had over 1,100 contributors who have given $1,000 or more, totalling $2.3 million plus… this whole process has taught me just the generosity of our diocese. I'm just so impressed. It makes me feel so good and so blessed to live here in our diocese, and I can't wait for next year." 
"It's all about supporting the Church, reaching out with works of charity," said Bishop Iffert about the DPAA campaign. "You are responding to needs with your hands, with your minds, with your hearts, your whole self, directly… thank you to all the parishes, organizations and people who get your hands dirty, and make a difference." 
At the end of the reception, Bishop Iffert announced that Matt Hollenhamp, who served as the Leadership Gifts Chair this year, will serve as the General Chair in 2023 DPAA campaign. 
Photo: Karen Riegler, 2022 DPAA general chair; Bishop John Iffert and Matt Hollenkamp, 2022 DPAA leadership gifts chair; stand for a photo at the 2022 DPAA celebration reception. 
https://covdio.org/wp-content/uploads/2022/09/Screen-Shot-2022-09-01-at-9.00.06-AM.png
442
550
Maura Baker
/wp-content/uploads/2015/01/CovDioLogo_dark-300x122.png
Maura Baker
2022-09-01 09:00:30
2022-09-01 09:00:45
Grants awarded at DPAA celebration reception, wrapping up 2022 campaign