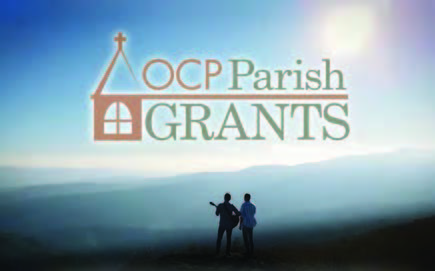 Check, one-two — St. John Parish awarded an OCP Parish Grant for microphones
Laura Keener, Editor
In a letter to Bishop John Iffert, the OCP (Oregon Catholic Press) Board of Directors announced that St. John Parish, Covington, was the recipient of an OCP Parish Grant in the amount of $1,500. At St. John Parish, the grant will be used to purchase new microphones and cables. 
"It is our sincere hope that this grant will help St. John the Evangelist meet the needs they so clearly presented in their application, as well as support their effort to enhance their community's liturgy and music," wrote Wade Wisler, publisher, OCP. 
OCP serves parishes by publishing music and worship resources. Most parishes are familiar with their hymnals "Breaking Bread," "Today's Missal," "Heritage Missal" and its bilingual "Unidos en Cristo|United in Christ" missal and hymnals, including "Journeysongs." What parishes may be less familiar with is that each year OCP provides grants to parishes seeking to enhance worship and music ministries. 
"St. John the Evangelist was chosen for this award out of hundreds of applications from parishes large and small across the United States," said Mr. Wisler. "We take great satisfaction in knowing that so many parishes are committed to fulfilling the needs of their communities." 
Daryl Sandy, organist, St. John Parish, Covington, said that qualifying and applying for an OCP grant is a relatively easy process. All U.S. Roman Catholic parishes or college and university campus ministries that did not receive an OCP Parish Grant the previous year are eligible. The only "minor" restriction on the grant is that the money must be used for liturgical or musical purposes. The amount awarded varies from year to year. Application forms and information is available on the OCP website. 
"They have a video that tells you how to apply and some suggestions for how to improve your chances for getting a grant," said Mr. Sandy. 
This is the third OCP Parish Grant that Mr. Sandy has received — two for St. John the Evangelist Parish, Covington and one for St. Ann Mission, Covington. 
"I put in a form every year because you never know, they might not have a lot of people requesting one that year," he said. 
Parishes will be able to apply online for 2023 grants in early Spring. 
"We hope these stories about recipients will be an inspiration to other parishes struggling with similar limitations and striving toward similar goals," wrote Mr. Wisler. "We invite any parish that was not awarded a grant in the previous year to apply in the coming year." 
For information visit the OCP website, ocp.org.
https://covdio.org/wp-content/uploads/2022/09/ocpgrants.jpg
271
435
Maura Baker
/wp-content/uploads/2015/01/CovDioLogo_dark-300x122.png
Maura Baker
2022-09-08 08:36:57
2022-09-08 08:36:57
Check, one-two — St. John Parish awarded an OCP Parish Grant for microphones