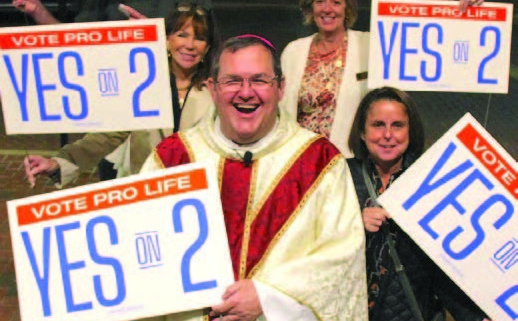 Like pieces on a chess board, the cause for life is 'a symphony'
Laura Keener, Editor
 Respect Life month kicked off in prayer, Oct. 4, with the celebration of the annual diocesan Pro-Life Mass at the Cathedral Basilica of the Assumption, Covington. Bishop John Iffert was the celebrant and Father Conor Kunath the homilist. Over 300 people attended the Mass, which began with praying the rosary, included a moment of adoration of the Blessed Sacrament and Benediction and ended with the distribution of "Vote Yes on 2" yard signs outside of the church. 
Vote Yes on 2 refers to amendment 2, which will be on the ballot this Nov. 8. The amendment is clear, concise and would amend the Bill of Rights of the Kentucky Constitution to state that nothing in the state constitution protects or secures a right to abortion or requires the funding of abortion. Voting "Yes" is a vote for life. 
In his closing remarks, Bishop Iffert encouraged everyone to vote this November and in particular, vote "yes" on amendment 2 and to "do it joyfully and to do it with thanksgiving to God for giving us this opportunity," he said. The trick, he said, is that amendment 2 will be the last item on the ballot and that some voters may have to turn over their ballot to see the amendment. Also, anyone voting a straight party ticket will need to be sure that they also mark their vote for amendment 2. Amendment 2 is a non-partisan piece of legislation, and like all non-partisan seats (for example judges, city council members and others) is not automatically picked up in a straight party vote. Each non-partisan item must be marked individually. 
"It begins with this phrase, 'For the protection of human life…' If you are for the protection of human life, then vote yes on that amendment. Encourage your neighbors and your friends to do the same," said Bishop Iffert. "It's very, very important. Please become a little group of recruiters that will go out into the world to recruit other people to vote yes on amendment 2. It's an important thing that we can do to help assure the protection life from the moment of conception." 
In his homily, Father Kunath used the great 1972 World Chess Championship between Soviet grandmaster Boris Spassky and Bobby Fischer of the United States as an analogy for the pro-life movement. 
"The date is July 23, 1972. After five back and forth games with a surprising forfeit in the second, the match is equaled up. People don't quite know what to expect at this point. There's already been a lot of history made up to this point and in just the last five days, things that had never happened before have happened. The world is on edge because this is one of those great confrontations between the two great powers of the Cold War — the United States and Russia," Father Kunath said. 
The sixth game, a seminal game that would break the tie and determine the momentum of the match, begins with an open that plays to the strengths of the grandmaster. Yet, Mr. Fischer dominates his opponent in way that not only impresses those watching the game, but also the grandmaster himself. In an interview, a friend of Mr. Fischer described the game as "a symphony of classic beauty." 
"That phrase always struck me," said Father Kunath. "What exactly is he seeing that we are not seeing? What exactly is going on over those 64 squares that the rest of us don't see?" By understanding the foundations of chess, a person begins to understand the achievements of that day and what Bobby Fischer accomplished, Father Kunath said. 
To be able to see so deeply into the game of chess to be able to describe it as a symphony of classic beauty, "I think that this sort of sentiment, this fact, is something we, especially as pro-lifers, have to be very keen to observe for ourselves, because while certainly our life, our mission, as pro-lifers is primarily and rightly centered on abortion, our cause as pro-lifers encompasses a great deal more than that," Father Kunath said. "Our cause as pro-lifers encompasses all that is good, true and beautiful. Our cause as pro-lifers encompasses everything that is." 
Father Kunath encouraged those in the pro-life movement to understand more deeply what is the cause for life. 
"You and I aren't just standing here praising God this evening in hopes that he will give us an abundant victory," Father Kunath said. "You and I are here tonight celebrating the very fact of our existence. We're not just fighting against a terrible scourge on our culture. We're not just fighting against abortion and its attendant vices. You and I are arguing by the way we live our life, that life is fundamentally good. That life is beautiful. That everything that is around us is in one sentence or another a love letter from God himself." 
The annual diocesan Pro-Life Mass is organized by the diocesan Pro-Life Office. For more information on the pro-life efforts in the Diocese of Covington and how you or your parish can get involved visit www.covdio.org/pro-life.
Image: Vote "Yes on 2" yard signs were distributed after Mass. Raising their sign, from left, are: Father Mark Keene, vicar general and pastor, St. Agnes Parish, Ft. Wright; Addia Wuchner, executive director, Kentucky Right to Life; Bishop Iffert; Peggy Piccola, assistant director, diocesan Pro-Life Office and Julie Gallenstein, parishioner, Immaculate Heart of Mary Parish, Burlington. 
https://covdio.org/wp-content/uploads/2022/10/pro-lifemassSigns.jpg
564
518
Maura Baker
/wp-content/uploads/2015/01/CovDioLogo_dark-300x122.png
Maura Baker
2022-10-13 13:28:11
2022-10-13 13:28:11
Like pieces on a chess board, the cause for life is 'a symphony'