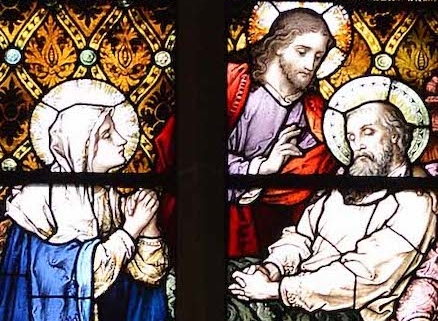 By Father Jordan Hainsey:
One of St. Joseph's traditional titles is patron of a Happy Death. Now that may immediately sound sharp to the mind or heart, leading us to ask: "Just what is so happy about death?" "My mother just died of a stroke." "My brother was in a terrible accident." "I lost a close friend in the middle of the pandemic."
For each of us, when death hits home it's anything but welcomed or happy.
The term "happy" though when we call upon St. Joseph as the patron of a Happy Death, does not connote the emotion of being glad or even cheerful. It points to something deeper. It's more about being at peace, being faith-filled, hope-filled.
When Jesus teaches the Beatitudes, "Blessed are they…", the Greek word he uses is "makarios" — happy. "Happy are those who mourn; God will comfort them!" (Matt 5:3-10). This should be consoling to us — God doesn't discern whether or not he will comfort us in sorrow, but rather promises he will do it. He promises that — if we are happy — that is, if we are faith-filled, hope-filled in those times — he will utterly transform and redeem the situation and ourselves.
Many traditions hold that Joseph died in the presence of Jesus and Mary, in their very arms. The most popular account of this is from a 17th century mystic nun named Venerable Mother Mary of Jesus of Agreda. From her vision she recounts:
"Then this man of God (Joseph), turning toward Christ, our Lord, in profoundest reverence, wished to kneel before Him. But the sweetest Jesus, coming near, received him in his arms, where, reclining his head upon them, Joseph said: 'My highest Lord and God, Son of the eternal Father, Creator and Redeemer of the World, give thy blessing to thy servant and the works of thy hand; pardon, O most merciful King, the faults which I have committed in thy service … I extol and magnify Thee and render eternal and heartfelt thanks to Thee for having, in thy ineffable condescension, chosen me to be the spouse of thy true Mother; let thy greatness and glory be my thanksgiving for all eternity.' The Redeemer of the world gave him his benediction, saying: 'My father, rest in peace and in the grace of my eternal Father and mine; and to the prophets and saints, who await thee…' At these words of Jesus, and reclining in his arms, the most fortunate St. Joseph expired and the Lord himself closed his eyes."
Church mural work, mosaics, and statuary particularly from the 19th and 20th centuries further popularized this scene, concretizing it in the Catholic artistic tradition for centuries to come. When Bishop Maes planned the stained glass for the Cathedral Basilica of the Assumption, a window depicting this very scene would come to life in the north transept, closest to the 12th, 13th, and 14th Stations of the Cross — a placement not by accident. Bishop Maes was clearly connecting the theme of death to the happy, blessed hope of resurrection.
The tradition of the death of St. Joseph is pious and worthy of much prayer and meditation, but for us it shouldn't matter if Joseph's death occurred exactly as Venerable Mother Mary of Jesus of Agreda relates it, or in a less idyllic way than our Catholic artistic imagination has made it out to be. The core message and truth of Joseph's death, and his title of patron of a Happy Death, is that he died a blessed, a happy death because Jesus and Mary were at his side. He died with the Savior of the World and the God-Bearer by his side.
Joseph's holy death reflected his holy way of life. Joseph, the just and upright man, lived his whole life loving and serving Jesus and Mary, through obedience to God's will. That is what Joseph can teach us and do for us when we pray to him and entrust our friends and loved ones who are close to death, or who have gone before us. His intercession can be the help we need on the pathway to heaven — the place of ultimate blessedness, hopefulness, and happiness.
St. Joseph, pray for us now and at the hour of our death!
https://covdio.org/wp-content/uploads/2021/05/CathedralDeathStJosephDetail-1.jpeg
366
438
Laura Keener
/wp-content/uploads/2015/01/CovDioLogo_dark-300x122.png
Laura Keener
2021-05-26 11:17:14
2021-05-26 11:20:23
St. Joseph: patron of a Happy Death